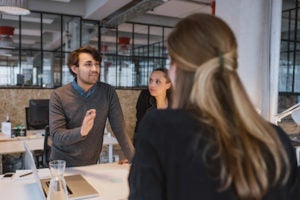 The market is booming. I predict unemployment numbers will dip below 5% for the first time in Q1 of 2016. We're experiencing a strong holiday retail season which points to a positive economic outlook for 2016. The HR and recruiting practitioners I've spoken to in Q4 are telling me their staffing goals and headcount numbers are on the rise for Q1 of 2016.
Our senior business leaders are staffing up and taking advantage of this bull market. History shows that for the last 75 years, when the market is good, the economy maintains during an election year, which is why I'm betting on this bull market continuing into at least 2017.
Not Just Candidate Experience, but a Focus on Pre-Candidate Engagement
Speed to fill is so important in this market. Business leaders know these kind of economic conditions don't last forever, and they want to squeeze in every last revenue dollar they can. While we've seen the use of sourcing increase – CRMs and talent networks to grow our candidate pools – talent acquisition leaders are focused on pre-candidate communication and resources. They are focused on building a relationship before they have an authorized headcount in their organization making the hiring cycle shorter. This extends beyond employment branding, to looking at pre-candidate communications and marketing strategies.
A More Refined Mobile Strategy
Because of the increased competition for highly qualified candidates, talent acquisition leaders are looking at not just a mobile optimized or rendered career site, but ones that add new mobile tools, techniques, and strategies to their current candidate engagement cycle; this includes SMS, mobile apply, social media, mobile retargeting, and mobile messaging. Companies like AT&T are using mobile messaging, particularly SMS text messaging, to enhance candidate communication during the application process and encourage them to finish their application or their asynchronous video interview.
A Clear Focus on Existing Candidate Pools and Communities
Since companies are focusing on pre-candidate engagement strategies, talent acquisition leaders are looking at existing communities and candidate pools to re-engage prospective employees using their pre-candidate communication. Employers are looking at communities like employer alumni, candidates who have already applied previously within the ATS, and college and university or military communities. Employers can re-engage these existing relationships and focus on strategic messaging, leading to a better candidate to employee ratios, faster time to hire and improved retention rates.
Taking Better Advantage of Existing HR and Recruiting Tech
Senior leaders are opening their budgets, adding, and expanding on recruiting technologies. The best talent acquisition leaders have been through bull markets and recessions, and are making technology selections with this in mind. As we become more familiar with different types of HR and recruiting technology, there is an increasing need to better leverage the tech, personalizing it to our needs. Recruiters are diving in deeper into their current analytics and reporting dashboards to help improve and enhance their current processes and strategies.
The Flattening of Customer Service Departments and Its Entry into HR and Recruiting
In 2015, I first wrote about the era of personalization where employees expect personalized training and onboarding programs. This goes beyond the idea of the candidate experience, flattening the entire organization so that every employee is a brand ambassador and a de facto recruiter who also plays a role in the customer service of the company.
We're living in a hyper connected world that moves at the speed of push notifications, tweets and text messages. Recruiters can no longer see a candidate as just a candidate. Instead they need to see candidates as potential customers, partners, and future employees regardless of their current experience level or fit within their company.
What does 2016 have in store for talent acquisition leaders? Based on current economic indicators, our hiring needs won't be slowing any time soon. It's a good time to be in the business of talent, recruiting, and hiring. We have the ear of senior leaders who are keenly aware of how critical talent continues to be in revenue projections and future success. I'm looking forward more than ever to the New Year and 2016.