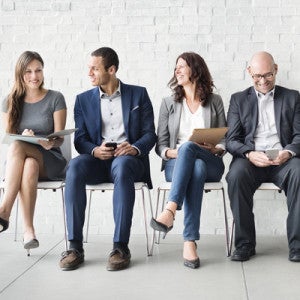 It's a job seekers market and top talent is in high demand. In today's hot market, attracting the right candidates is more difficult than ever. So how do you stand out and turn your best candidates into new hires? Providing a great candidate experience throughout the interview and offer process is the key to closing the deal with top talent. Follow these no-fail five steps to deliver a killer candidate experience and watch your close rates soar.
1. Make a great first impression. Your careers page is the first place candidates will come to understand more about your company. A winning career site is much more than just a bunch of job listings. Candidates respond to authentic, dynamic content that tells a story about your company. Ensure your career page is visually appealing and conveys a strong story about your brand. Be sure it's just as compelling on a mobile device as it is on a desktop. For more tips on how to develop a winning career site, check out our Career Sites that Sell eBook.
2. Rethink your application form. Your candidates need to be able to apply for positions anywhere, anytime from any device. Don't frustrate them with a lengthy form that makes them enter the same information over and over again. Make it easy for them with a simple, short, and clear application—one that's fully functional from any mobile device.
3. Communicate, communicate, communicate. According to Talent Board, candidates report that communication from hiring companies is extremely weak. Nearly half of candidates surveyed report that they never received any indication of the status of their application. Shocking! Transparent and honest communication enhances your brand. It's easy to demonstrate your interest in a candidate with frequent, detailed, and personal communication. It's not difficult. Leverage technology that allows for tailored, personalized communication. And for candidates that aren't a fit? Common courtesy dictates that you should communicate why they are not a fit—and do it quickly and honestly. Infuse the "constant communication" mantra throughout your recruiting team.
4. Make feedback a two-way street. Candidates express frustration that companies don't provide feedback about their status in the application process. A simple email to let a candidate know where they stand can go a long way. Don't forget that feedback goes both ways. Candidates are interviewing you as much as you are interviewing them. Those interactions are the perfect opportunity to solicit input about your recruiting and interviewing process—and use that feedback to make it better. Actively seek feedback from candidates that you hire and those you don't. Follow up with candidates that withdraw from the process to understand why. And treat that feedback as a lesson.
5. Deliver a seamless onboarding process. So you've implemented all these steps and your perfect candidate has accepted the position. The candidate experience doesn't stop there. Onboard your new hire seamlessly, in a way that makes them feel special and reinforces that they made the right choice. Reiterate how thrilled the company is to have them onboard. Ensure their hiring manager and team engages with the new employee even before their start date to answer questions and make them feel welcome.
The way a candidate experiences your company throughout the interview process is very telling and delivering a great candidate experience can be the difference between hiring top talent or losing them to the competition. Every step of the way is an opportunity to stand out, be memorable, and make your candidate certain your company is the best possible fit for them. So put yourself in your candidate's shoes and take a close look at the candidate experience you deliver today. What can you do to improve it? It could mean the difference between winning that perfect candidate over or driving them away.