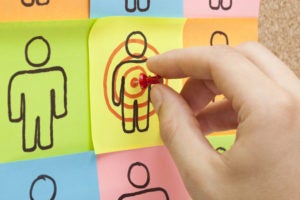 The times they are a changin'. The world is now filled with data analytics and predictive marketing that help retailers and brands create marketing strategies that attract the customers they want. HR leaders are seeing opportunities to combine these marketing analytics concepts with tried and true recruitment methods to more intelligently target their own audience – the highest quality candidate for your organization's specific needs. This important aspect of recruitment marketing is what we call Targeted Audience Planning (TAP), and it will change the way your talent teams approach the candidate experience. Let's look at the fundamentals of Targeted Audience Planning your company can start making today.
A Quick Checklist for Building Targeted Audiences
Simply put, targeted audience planning is the practice of: 1. Identifying which roles your company needs the most, 2. Learning all about the candidate types who'll succeed in each role, 3. Grouping the candidates into audiences to more easily build personalized content, and 4. Communicating this content via their preferred mode of communication. Recruiters for Fortune 500 companies and other organizations know that how you attract an entry-level hourly worker is much different than how you attract a senior executive. But we're talking about taking it to the next level by integrating this TAP concept to really understand who your audiences are and to ask questions like "How are these roles prioritized?" and "What is their importance to our organization's success?" to align with your corporate goals. Then, you can develop a content and outreach strategy for each audience based on this information.
Identifying the Audiences that Mean the Most to Your Company
With limited time and resources, it's easy to overlook the importance of targeted audience planning. By using assessments like Talemetry's EVOLVE framework, we encourage companies to use three different buckets when defining their key audiences for their recruitment pipeline. Key Talent Audiences – These are the areas that add the most value to your business and customers. The candidates might be for large volume jobs or targeted, critical roles. They might be specific job families of positions with similar types of works or required expertise or group based on geography. Relationship Audiences – You already have a known relationship with these individuals who can include referrals, internal employees, alumni, contingent workers, and past applicants. Organizations with a more mature recruitment marketing program may also focus on existing customers and how they can interact with individuals as both a candidate and as a customer. Strategic audiences – These audiences could include diversity and inclusion candidates, graduates or interns, veterans and military hiring, or executives hiring. It's important to mention that your department should not work autonomously on these initiatives. Pull together a team of individuals who know your company's business goals, its customers, and its ideal culture. For instance, a member of the executive team, marketing, recruiting, customer success, sales, and employees who have the qualities you want are invaluable in developing TAPs. And we know, you're probably seeing images of your packed calendar, but believe us this will pay off!
Using Your Existing Data to Understand Your Audiences Better Than Ever
A successful program is built off a solid foundation – in this case, that means data. Technology is here to make our lives easier. So use what existing information you can get from your current applicant tracking system to feed into the development of your audience's personas. Just as important is developing a system that can capture data on the back-end to measure the results of your TAP strategy. Develop an iterative feedback loop to capture the data, assess the results of your strategies, and fine-tune your recruitment methods based on those results. Stay tuned for step-by-step guidance on making Targeted Audience Planning work at your company later this week once we release our newest guide. To start understanding your organization's most-needed roles and begin developing the best audiences to fill them, reach out to us today!