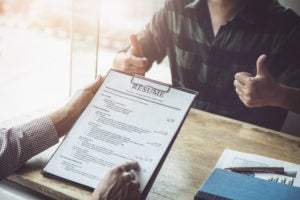 Today, we're celebrating Candidate Experience Day with our friends over at Talent Board, and we're a little bit in our feelings thinking about how far the talent industry has come and all the great stories we've heard about how talent technology and processes are going a long way to creating candidate-centric journeys.
The (R)evolution of the Candidate Experience
To understand the full impact of our emotions, it's worth taking a look back at the evolution of the candidate experience over the past few years. It all started with an impressive in-office experience as candidates would come in to fill out a physical application to kick-start their journeys. Then it was all about having the best phone call game in the business — making sure phone calls were promptly answered, well-scheduled, and engaging. Now, throw in tools like video interviews, social screens, and text conversations, and you get our current, exciting state of recruiting. Has this been overwhelming for recruiters? Absolutely. Does it require new skills and new approaches to work? Sure. But does it add some fun and deeper connections between recruiters and candidates? We think so!
How to Build a Candidate Experience for Some of the Most Sought-After Candidates
If you're skeptical about how new technology and processes can be fun, we put together a quick "how-to" guide to building candidate experiences for what we believe will be some of the most popular candidates for 2020. We dare you not to have a good time using them. 😏 1) The Candidate Experience for 'The Employed and (Relatively) Satisfied' Also known as the "passive candidate" this type of candidate has gained a lot of attention in the past few years as the job market has grown tighter and tighter. Probably because recent data shows that 82% of employees are "open to new opportunities." For this type of candidate experience, we're not as concerned with meeting them at career fairs or networking events. After all, for the most part, they appear satisfied with their current positions…but they're not above being lured away for the right opportunity. Building a candidate experience for passive candidates will most likely start from your company's talent network. Since passive candidates aren't necessarily looking, you will have to go to them. Many organizations have found success in reaching out to premier candidates that already exist in their ATS that may not have been the best fit for an old position or maybe it was simply just poor timing that kept them from accepting a previous offer. Taking advantage of your referral program is another way to build a candidate experience for those candidates that aren't looking, and text has also been useful in reaching candidates who are currently employed and not monitoring their personal email throughout the day. 2) The Candidate Experience for 'The Highly Skilled, but Hard-to-Fill' We can't help but think of industries like healthcare or federal contractors for this type of candidate. When we think of roles like nurses, doctors, pharmacy techs, etc., we are speaking of candidates that have special certifications, education, and assessment qualifications. So, pretty valuable employees! But with their varied work schedules, requirements to rotate between different locations, and ongoing training needed for the job, these roles can be some of the hardest-to-fill and to find. To build an engaging, successful candidate experience for these jobseekers, the key is to be as proactive as possible and make all job requirements as clear to understand and easy to fulfill as possible. This means building very targeted social and digital ad campaigns that attract the right type of candidate from the very beginning and then communicating any job requirements across multiple channels depending on the audiences' preferences. Finally, the use of bots has been a huge life (and time) saver as recruiters can send a set of pre-screening questions via text to identify the most qualified candidates. 3) The Candidate Experience for 'The I'm Interested in A Different Job for Every Season' Now, you could read this subhead as a nod to the candidate experience created for "job shoppers", or the term used for people that tend to work at companies for 1-2 year stretches. A trend that has become a normal part of the workforce and shows no signs of stopping. Or it could refer to seasonal workers that are so integral to retail and holiday work. The good news is, no matter which way you read it, we recommend a similar experience for these candidates who don't mind the job hunt and are consistently looking for new opportunities even if it is at specific times. This is one of the easiest candidate experiences to build when it comes to attracting these job seekers because they do a lot of the work for recruiters. They're visiting companies' career pages, they're clicking on ads, they're attending networking events. The key to a good candidate experience for these folks is that recruiters are quick to respond to their inquiries and that their experience is consistent and powerful across all digital platforms. When it comes to prompt communication, you can't beat text or a quick social message; and if you're looking for a smooth, engaging career site, you can't beat the power of recruitment marketing principles combined with tech and AI to provide dynamic, personalized web pages. Hopefully, you can see why we're so thrilled to be celebrating Candidate Experience Day. With all the new opportunities and tools available there seems to be no limit to how we can better serve our candidates and our organizations through authentic, fast, and effective experiences. To learn more about how to develop candidate experiences for every type of role, we'd love to chat with you. REACH OUT TODAY