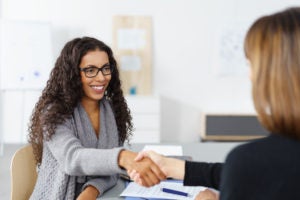 Is Your Leadership Listening?
Trying to win executive approval for the right recruiting technology can be a frustrating process, like talking to a wall. You pour your heart out explaining your need, to no avail.
But what if the problem isn't the wall? What if the problem is how you're talking to it—and what you're saying?
PwC recently released its 2014 Global CEO Survey  and found that 70% of CEOs in the United States are very concerned about critical skills shortages, and 62% plan to hire more employees this year. In my mind—and in the minds of many interpreting this data—this means executive leadership is not willingly sticking its fingers in its ears when you try to gain support for smarter recruiting. They want you to hire smarter. They want you to have the right technology. They know it matters.
The problem is that they don't know what the right technology platform is. Things have changed a great deal in the past few years. The traditional Applicant Tracking System won't suffice for most recruiters today—and while you know that, perhaps because you live and breathe its inefficiencies and shortcomings daily, your executive team is probably clueless. They key in on the trendy buzzwords, like "HRIS" or "Talent Management Suite," and they think they've found a catch-all solution to a vague and over-generalized HR problem. But you've probably tried those, too. And they come up short.
Your job is to tell your executives what you need and why you need it, using language and data that they can understand. And we're going to help you.
This week, Jobvite published the first eBook in our new Insight4theEnterprise Series. Entitled "4 Steps to Getting Executive Buy-In for the Recruiting Platform You Need," we provide clear guidance on how to sell your recruiting strategy. We start off by helping you properly frame the discussion and take the basic ATS off the table. Then, using four straightforward steps that help you align yourself with business allies, apply meaningful ROI statistics, work in tandem with IT, and leverage reporting tools, you'll learn to crack the "wall" and get your leaders to listen.
Download "4 Steps to Getting Executive Buy-In for the Recruiting Platform You Need" to learn how to get your executives on-board with your recruiting platform.