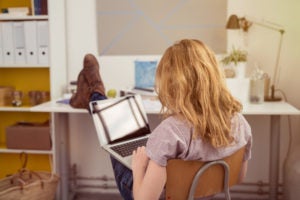 Streams of purple light streamed out as I opened the two double-doors to the main meeting room. The hall was full of high, nervous energy with the anticipation of the keynote speech. Hoards of talent acquisition professionals chatted excitedly about the imminent arrival of Tony Hsieh, a master of "delivering happiness" to his employees. As I glanced around the room, I noticed a common sense of readiness and anxiety within each of the attendees. They were eager to hear Hsieh discuss his successes with maintaining employee happiness because, while these professionals definitely know how to hire great people, they may have a harder time figuring out how to keep top talent. Maybe Tony held the answers. Nervous chatter filled the room until our keynote speaker took the stage.
Creating a positive work environment is a topic of great importance – one that very few know how to implement well. Recruiters own the challenge of finding the best people for their organizations, but maintaining that talent is an equally essential task. While 47% of hires made through employee referrals stay at the company for more than three years, it's no easy feat.You still need to make these people feel consistently valued and welcomed in order to keep them around. In this ever-changing "job shopping" market, candidates are on the hunt for the next best gig almost as soon as they are hired for a new one. Hsieh attempts to defy this trend by maintaining a positive environment for his employees. "If you have good culture, everything else falls into place," he noted as the Summit'14 crowd listened intently.
A positive company culture is not the only thing that will sustain a strong employee base, urges Hsieh. The corporate brand tends to reflect what happens within an organization, which Hsieh was sure to emphasize in his keynote. If your employees are unhappy, your brand takes a hit. In turn, if your brand somehow acquires a negative connotation through scandal or poor customer service, your colleagues may view the company in a more pessimistic light. While you focus your efforts on finding the best people for open requisitions, you also must find a way for your business to exude positivity from the inside.
After Tony Hsieh's inspirational presentation, the room filled with questions and hushed discussion. This energetic atmosphere set the stage for an innovative Day 2 of Summit'14.  Empowered with the idea that they can deliver happiness within their own organizations, the attendees strode into the individual breakout sessions with purpose and determination.
This strong sense of community at Summit lifted my spirits and made me feel like I was truly part of a revolution – one that emboldens professionals to make small, positive alterations in his or her surroundings. I often find myself missing that sense of camaraderie that I found at our user conference. When will I be able to feel that inspired again?  Then I remembered: I am part of my company's culture, and I can create a positive change within it each day. The opportunity is staring me in the face as the elevator doors open. It can be as simple as surprising a stressed-out coworker with a coffee.
I'm calling all talent acquisition professionals to hire people that value company culture because, as you know, great culture is the key to happiness, which leads to retaining the most effective workers. As Mr. Hsieh wisely notes in his book Delivering Happiness: A Path to Profits, Passion, and Purpose, "Your personal core values define who you are, and a company's core values ultimately define the company's character and brand. For individuals, character is destiny. For organizations, culture is destiny." Reshape your organization's fate, starting with the next person you hire.