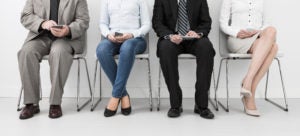 A positive candidate experience is as much a marketing tool as an human resources tool. It is—first and foremost—the only way to really hire the best of best. It also creates brand loyalty, recommendations to future talented job seekers, and positive word-of-mouth about your brand.
A negative candidate experience, of course, can do as much damage as a positive one does good. Keep up with the trends in candidate experience. Your competitors are.
1. Start Before Day 1
A candidate's experience starts before he or she ever interacts with the company — maybe even before they know the company's name. Their first exposure to the company is likely to be on the internet — most likely on either a branded job posting or social media. When you want to draw the attention of sought-after candidates, first impressions matter.
Chris Yarrow is Co-Founder and Managing Partner for The Hiring Group, an IT and Engineering staffing and recruiting company with locations in Georgia and South Carolina. He stresses the importance the the first impression.
One of the most important points to remember is the candidate experience starts long before they apply for a job. The digital universe we live in is saturated with information, so it's difficult to stand out. We have designed our social media channels to be interactive and reflect our company's core values as well as our client's.—Chris Yarrow, The Hiring Group
Make sure that branded job pages are engaging and easy to use, and use that space to promote your brand a little. Additionally, make sure your most popular social media channels are, in part, boosting your employer brand in addition to your audience-facing brand.
2. Make Candidates Feel Like They're Already Part of the Team
Show each candidate how great it is to be part of your team from the beginning. Making candidates feel at home in your building and with your existing staff, etc., makes the process more comfortable and gives everyone a glimpse of what a great company you are.
Yarrow knows the value of making candidates feel at home.
We strive to make every candidate feel like they are already part of our team, and the interview is just a formality. Once you have a prospective employee engaged, I believe that it's company culture and good visible leadership that wins the day. Great benefits and an extremely liberal time-off policy don't hurt either!—Chris Yarrow, The Hiring Group
Eric Bowen, Digital Marketing Manager of BroadbandSearch, says the best experiences are the ones outside the interview room.
The most memorable experience I had while conducting an interview was for a college intern who was being hired to work under me. After the formal interview concluded, I felt confident in their ability so I decided to further give them a tour of the office. I had the candidate click through a few of the applications they would be using, such as Photoshop, to see how comfortable they felt. This part was very informal but also a great way solidify how the candidate fit in with the office culture and values.—Eric Bowen, BroadbandSearch
Christine Chung, Senior Talent Manager for Fueled, believes the sooner you can get them feeling like they're valuable employees better — even before they've accepted your offer.
Our in-house designer custom designs a personal avatar of your face once an offer is extended! Once you have an avatar, you know you're on the team.—Christine Chung, Fueled
Sought-after candidates want to know your company is going to be the right fit, and so do you. The more welcome and comfortable you make them, the more likely you'll make their shortlist.
3. Streamline the Process
One of the most trying aspects of the hiring process is prolonged onboarding. These delays and communication failures can not only cost you the candidates you want, it can also hurt retention: employees who had an efficient and organized onboarding are 58% more likely to be with the company after three years.
Caitlin Glandon, HR Coordinator at H.D. Smith, uses the right tools to help her HR department run more smoothly, and, more importantly, help new hires start sooner.
We worked with DocuSign to set up a platform that gives the team the ability to create a template that fills in all the communication gaps. The HR department was able to streamline the onboarding procedure. … One offer letter took only one hour to be signed and returned, compared to what sometimes would take a week.—Caitlin Glandon, H.D. Smith
Finding the right candidate takes a lot of work, so don't throw it all away with a poor onboarding experience once you've found the perfect person.
4. Partner with Your Candidates and Staff
As Account Executive with Betts Recruiting, Ethan Gomes places many candidates with many different companies. The role third-party recruiters play in onboarding can be just as vital as the company's own process.
The first question I ask someone when I meet them is, "What is your five year goal?" From there, I can strategize opportunities that will be a great fit for the candidate long term. Throughout the process, I act as a sounding board, letting candidates explain their thoughts, both good and bad. If there's a bump in the road with a company they really like, I encourage them to get creative and strategize ways to overcome objections. After my candidates sign their offer letter, I stay in contact with them to check in and see if I can help. I shift my recruiter hat to business partner, so we can work together to navigate this crazy corporate world. — Ethan Gomes, Betts Recruiting
Third-party recruiters who choose to partner with hard-working, dedicated individuals become valuable associates for the candidates and the companies they work with.
If you're recruiting for your company, you're not going to start coaching every candidate who comes through the office, but there's no harm in connecting on LinkedIn and staying in touch with the strong candidates. You never know what opportunities might arise down the road.
Is Your Candidate Experience Up-To-Date?
Recruiting and hiring is no longer a cold, formal process of paperwork and awkward interviews. Companies are using social media to show off their teams and make a good impression on candidates they've never even met. Interviews are moving outside the HR office. Processes are improving.
Take some time this week to review your hiring process. What inefficiencies can be tightened up? How can you make candidates feel more at home during an interview? How often do the company's social media channels go behind-the-scenes?
Whether you work in HR for a large company or run a startup, the beginning-to-end experience you give your candidates is crucial. If they leave wanting to come back every day, you've made inspired a passionate new team member and boosted your employer brand with dozens of other industry professionals.