This week, the Indy Chamber announced its partnership with Jobvite to power its Rapid Response Program connecting job seekers to open opportunities with employers around the state of Indiana. Jobvite's software allows job seekers from all positions and industries to join a talent hub by adding their contact information, skill sets, and even a resume in less than a minute — all from their mobile phones!
Take a peek at the job seeker talent portal!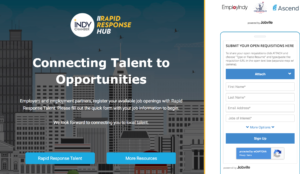 With unemployment at its highest level nationally since The Great Depression, this program offers hope and opportunity to the thousands that have lost a job or have been affected by current economic conditions. The reaction from the local business community has been outstanding as employers ranging from small businesses to large corporations have rallied together to offer current job openings. In a very short time, we've seen employers ranging from a wide variety of industries (Pharmaceutical, Healthcare, Landscaping, Technology) participate in the program as they share their current openings for both salaried and hourly positions. 
"We are honored and pleased to support the Rapid Response Talent initiative and the good work that the Indy Chamber is doing to help the community of employers and job seekers," said Jeffrey K, Rohrs, Jobvite CMO.  "As we saw in our Job Seeker Nation report launched last week, 54% of job seekers are concerned about losing a job and 73% believe finding a job is harder this year.  We must, as a community, come together and help connect employers and job seekers." 
Click here if you're an employer who would like to participate in the program.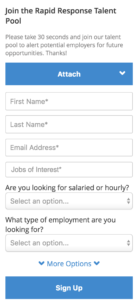 Facing one of the most uncertain times in our history, Jobvite is proud to stand alongside the Indy Chamber on their Rapid Response program. Together, with the help of hundreds of local and national companies, we are powering a path for job seekers towards a better tomorrow and the opportunity for them to seek and find their dream job.  
If you're an employer and would  like to participate directly in the program please contact: