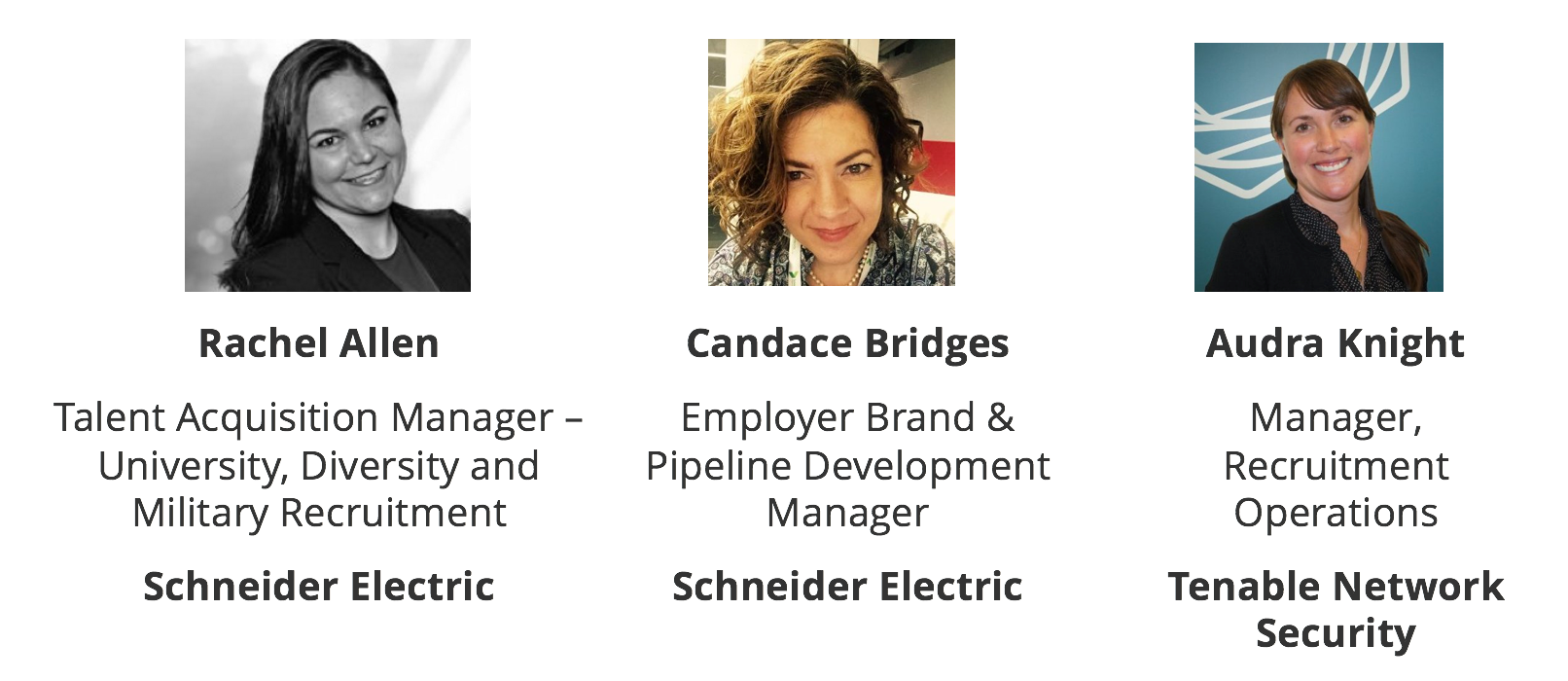 We recently sat down with three of our Jobvite Engage customers to talk about how Jobvite Engage is changing the way they market their companies and recruit candidates. Jobvite's Director of Product Management, Lissa Juan, moderated a discussion with three talent acquisition and recruiting experts who are using Jobvite Engage—Audra Knight, Recruitment Operations Manager at Tenable, Rachel Allen, Talent Acquisition Manager – University, Diversity and Military Recruitment at Schneider Electric, and Candace Bridges, Employer Brand & Pipeline Development Manager at Schneider Electric. In a wide-ranging and candid conversation, our customer experts shared best practices, lessons learned, and tips for taking full advantage of Engage. What follows is a summary of the insights they shared.
Meet 2017 Talent Goals with Engage
For Tenable, a fast-growing security company, growing brand awareness around the world is a key goal for 2017. Tenable is using Jobvite Engage to support recruiting in new office locations, leveraging targeted web campaigns and email marketing to attract candidates in geographies that may not be familiar with the Tenable brand. Audra Knight has launched very targeted campaigns—to attract technical support candidates in Singapore, for example—using Facebook ads and video tailored to the specific needs of the position. She notes, "Engage makes it so easy to expand our talent pool."
This year, Schneider Electric is taking a longer term focus on building future talent pipelines and increasing conversions. With Engage, Rachel Allen has been able to build a year-long recruitment calendar and focus on sourcing and recruitment tactics designed to bring in higher quality candidates. Engage has enabled the recruitment team at Schneider to improve communication with candidates with more frequent virtual engagement with candidates, rather than relying on many in-person events. "With Engage, we've digitized our process, and as a result improved our overall pipeline and communication with our candidates," said Rachel.
Jobvite Engage Enables New Recruitment Marketing Tactics
Both Tenable and Schneider Electric have leveraged Engage to market their companies to candidates in totally new ways. Schneider has created specific campaigns designed to attract highly sought-after talent for critical roles in sales, project management, and engineering. Email nurture and drip campaigns show a day in the life at Schneider and showcase the company as a thought leader, with the goal of staying top of mind with passive candidates. As Candace Bridges notes, "Sometimes we get an instant response. Other times candidates are in the pipeline for months or years. We know we're in the long game."
The Tenable team has been very successful using Engage to attract talent from the competition, particularly when competitors go through rough times or layoffs. Audra notes, "We have fun with cheeky email marketing and social media campaigns targeting very specific people at competitive companies. Some people are blown away that we've figured out exactly how to reach them."
The Bottom Line—Engage Delivers Value
At the end of the day, your recruitment marketing has to deliver value, however your organization defines it. For Tenable, the customization options in Jobvite Engage make it easy to launch very specific, targeted campaigns and then repurpose those campaigns as needed. Audra says, "If I have a web campaign in Ireland, I can change the job and location and use the same campaign for another location and position."
The Schneider Electric team loves that Jobvite Engage helps align recruiting with company strategy. Rachel notes that, "We've been able to go paperless and that aligns with green focus of our company. Engage helps us be long term and strategic rather than short term and reactive." In addition, Jobvite Engage harnesses the collective intelligence of the entire recruiting team. The ability to share information and track conversations and where a candidate is in the cycle is tremendously valuable, particularly for companies with larger recruiting teams like Schneider's.
Is Jobvite Engage Right for You?
In today's highly competitive job market, companies like Schneider Electric and Tenable have figured out that recruiting the right candidates takes the skills and tools of a marketer. Jobvite Engage has everything you need for recruitment marketing—candidate relationship management, campaigning tools, and analytical insights— and it's the perfect companion to your Applicant Tracking System. Learn how Jobvite Engage can help you source and recruit the best and build a lasting talent pool.
Want More Tips and Tricks?
Then check out our new "Top 10 Sourcing Hacks," eBook for effective tips that help you source great talent quickly and efficiently.