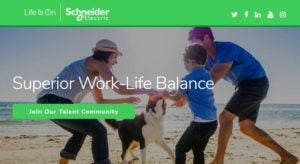 Schneider Electric is one of the biggest energy management and automation companies in the world, and a leader in the manufacturing of electronic components. Their innovative approach doesn't stop with business though, they are also thought leaders in their approach to recruiting through creative use of the Jobvite Engage platform. Schneider Electric wanted to differentiate themselves from industry peers, and utilized their Engage Managed Services (EMS) hours to create branded web page announcements for their Family Leave and Return2Work programs.  
I sat down with Sarah Zachow, Diversity Recruitment Program Manager at Schneider Electric, to learn more about how her team created hundreds of recruitment marketing campaigns, and how that evolved to also use Jobvite Engage to publish press release pages for major company announcements.
AR: What brought about your discovery of leveraging Engage as the avenue to release big company announcements?
SZ: We'd used Engage webpage campaigns for events, recruiting efforts, and for conveying information about the company that could be shared on social. The information was previously much more boiler plate messaging and purely for recruitment marketing efforts.
We arrived at the idea to utilize Engage's publishing platform in the lieu of a press release as a simple, quick way to share our team's newsworthy items. It can be difficult to build a new web page for news and get in the backend of our own platform due to the size of our company. But working with the Jobvite team and the partners they have made makes creating a beautiful page easy and fast. Engage is a more visual way to share our news and convey our brand personality  through images and diverse layout options.
AR: What news have you released using Engage so far?
SZ: The first news we announced was our new Family Leave program. Across North America, all our employees are guaranteed 12-weeks for fully paid leave for the primary caregiver and 2 weeks paid leave of the secondary caregiver. This is big for us, especially in the US as there is no mandated policy.
What we announced most recently was our new Return2Work program! Starting this year in our manufacturing and supply chain spaces, we started a 6-month program in partnership with the Society of Women Engineers and in cohort with 5 other companies that allows us to really support each other's programs. The program is for someone with a more than 3-year career break who needs assistance in the transition back into the workforce — whether that be additional training, mentorship, or other forms of support. It also allows participants to test drive the company before making a larger commitment.
AR: Absolutely love that. Can you walk me through a bit of the behind-the-scenes of your experience making it happen?
SZ: We worked with the Engage team and dedicated our EMS time together to building out these campaigns. From building out the vision for the page to the time we had a good draft was only a week. A week later we had the final page, so it was really only a 3 week turnaround total to make it all happen! It truly was quick, easy, and has been effective in terms of results we've had already. It's also strengthened our customer/vendor relationship to work with the Engage team so closely to make it happen.
AR: What's been the response from employees and candidates alike?
SZ: It's really allowed our employees to act as brand ambassadors and share with their networks with news they are proud of! Internally, friends of mine from Schneider that typically don't share work related posts on social media do so, which is great to see. The success we've seen as a talent acquisition team came from the ease of working with the Engage team to get something we're happy with done in such a timely manner. Our primary goal was to spread the word about these initiatives, and with our Family Leave page we saw over 800 social shares in just the first week! We're excited about the engagement we've had so far in terms of click-rate to our job opportunities, and look forward to seeing further results ahead.   
+++
Sarah Zachow is the Diversity Recruitment Program Manager for Schneider Electric. In her position, she is responsible for building diverse talent pipelines in Canada, the United States and Mexico. She works with key stakeholders to continually identify, enhance, maintain and evaluate relationships with diversity organizations; plans and executes all diversity related sponsorship opportunities, events and career fairs; partners with Business Resource Groups to drive diversity pipelines in local markets; and ultimately drive more diverse candidate hires. She is a graduate from University of North Texas and resides in Dallas with her husband, Robert.