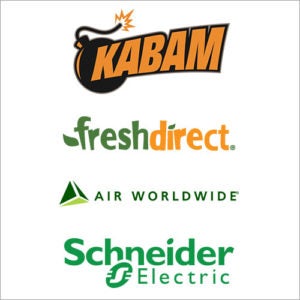 Thousands of companies around the world rely on Jobvite to source the best talent, boost employee referrals, deliver incredible candidate experiences, and lower recruiting costs. Our customers' standards are extremely high when it comes to attracting and hiring the best talent on the market. And we are committed to supporting our customers with innovative recruiting technology that helps them meet, and exceed, their talent acquisition goals.
In this post we shine a spotlight on four customers—AIR Worldwide, FreshDirect, Kabam, and Schneider Electric. While they come from diverse industries and have varied recruiting needs, they share the need to hire specialized talent quickly. And they rely on Jobvite to do it.
AIR Worldwide Looks to Jobvite for Recruiting Success
While there's no sure way to see into the future and prevent disasters, AIR Worldwide gets close. The company's catastrophe modeling software allows users to project possible outcomes, helping them to prepare for catastrophic events and related risks. With over 500 employees located around the globe, AIR Worldwide is in a niche industry and was struggling to fill highly specialized and skilled roles, from developers to scientists.
To reinvigorate their recruiting program, AIR Worldwide turned to Jobvite for help. First steps included giving their career site a makeover, but they also needed an easy way to communicate, a way to integrate international offices into their hiring process, a user friendly-system, and better metrics. After evaluating numerous recruiting platforms, they realized that Jobvite could do all that and more.
AIR Worldwide's experience with Jobvite has been transformative and the company has seen improvements in nearly every facet of their recruiting program. In the first six months alone, the company received almost five times more organic applicants through Jobvite than through their corporate ATS. And Jobvite hasn't just helped boost the number of applications—it's also provided higher quality candidates. With a larger and more qualified talent pool, AIR Worldwide has effectively been able to reduce their spend on external job sites.
FreshDirect Finds Healthy Approach To Recruiting With Jobvite
FreshDirect is an online grocery delivery service on a mission to provide the freshest, healthiest ingredients and meals to consumers. Based in New Jersey, FreshDirect also has their own brand of products and manufacturing plants. And with positions to fill in the corporate office, operations, and transportation, FreshDirect is never short on job openings.
With hundreds of delivery, operational, and corporate positions to fill in their grocery delivery company and a small recruiting team to do it, FreshDirect faced a real challenge. The company turned to Jobvite Hire for help to streamline their recruiting process, share open job positions with employees' social networks, gain access to their most critical metrics, and provide support for hiring managers.
After teaming with Jobvite, FreshDirect hired more than 1,000 new team members last year alone—constituting about a third of the company's entire workforce. And the quality of hires has also improved, as FreshDirect's recruiters leverage Jobvite to find only the best candidates.
Kabam Steps Up Recruiting Game With Jobvite
Founded in 2006, Kabam develops the world's favorite free-to-play, multiplayer social games. To support the creation of these games, Kabam recruiters are always on the lookout for talented engineers, artists, and mobile game developers. All of which are highly specialized with a specific set of technical skills and relevant work experience, which can be hard to come by.
A Jobvite customer for more than six years, Kabam has leveraged Jobvite's integrations, video interviewing platform, and easy-to-deploy social recruiting capabilities to make finding top-notch talent easier, faster, and more cost-effective. One of the key ways in which Jobvite helped improve the quality of Kabam's pipeline was by integrating with HackerRank, a platform that tests candidates' programming skills. After determining that candidates have the hard skills needed, Jobvite makes it easy to reach out and get to know candidates in a meaningful way, using Jobvite Video for interviews, particularly for entry-level roles that attract a high volume of candidates.
Kabam was able to save time by using Jobvite Engage to reach out to many candidates at once. Using Jobvite Engage, they're able to send out a massive email with uniform messaging to follow up with candidates. Even if a candidate isn't the right fit at the time, Kabam's recruiters can store their information to nurture and engage with them on future opportunities.
Using Jobvite has allowed Kabam to recruit more simply by utilizing a solution that's tailor made for their unique hiring needs.
Schneider Electric Powers Up Recruiting with Jobvite
With operations in over 100 countries and more than 185,000 employees, global energy management specialist Schneider Electric needs a giant crew of talent to maintain operations. The company has hundreds of open positions that need to be filled at any given time.
Schneider Electric was tasked with filling high-visibility positions for recent university graduates on a tight deadline in Mexico. As a result, they were in need of a solution that would help them work seamlessly as a team, overcome language barriers, and engage candidates in record time.
Partnering with Jobvite allowed the recruiting team at Schneider Electric to attract, engage, and ultimately hire many candidates with unprecedented efficiency. They made several hires within a month, and in just over two months, the team met or exceeded all of their goals by reaching out to 53 high-quality candidates, bringing in 31 for first-round interviews, inviting 17 back for a final-round interview, and successfully hiring nine—three of whom were highly specialized engineers.
Not only did Jobvite speed up the recruiting process for Schneider Electric, but it helped them craft a totally new, proactive approach to recruiting.
No one can showcase the power of Jobvite like our customers. And we're honored to help them meet their talent acquisition goals.
What can Jobvite do for you? Find out! Request a free demo today.