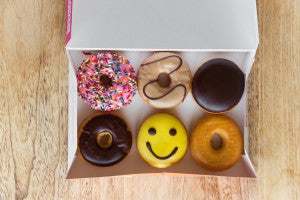 In the fast paced, competitive world of B2B software, it's very easy to focus on… well, the business. We might tend to act as if a business isn't a group of actual humans that have come together to create a product and provide customer service for other humans. It is sometimes too easy to spend lot of time contemplating ROI, budgets and strategic plans, which definitely are important, but definitely aren't the only important factors.
As Sr. Director of Customer Success, I care deeply about the experience our customers have with both our product and our customer support teams. I've always landed firmly in the camp of you can't fix what you don't measure and as such, we regularly solicit feedback from our customers. We do this via several mechanisms, but one of my personal favorites is the survey that goes out when a support case is resolved. We ask our customers to rank our initial response time, total resolution time, communication skills, product knowledge, troubleshooting skills, etc. We get thousands of surveys back each year, and guess what, I read every single one. If you're taking the time to write it, you better believe I'm taking the time to read it. I can't respond to every survey, but this feedback has consistently allowed us to pivot and iterate to make our customer experience better. We measure our overall satisfaction rating, A grades, and Perfect scores, and a host of other things. If Jobvite has taught me anything it is to be wildly data-driven and I gladly oblige.
In addition to all the Quantitative analysis, we also gather Qualitative analysis. We ask questions like, "What could we have done better?" and "Did our team do anything to impress you?". For as data-driven as we are, to me the real power comes in the qualitative data. These qualitative stories breathe life into the numerical ratings and often provide very actionable insight that we often immediately put into play. But sometimes we get more than actionable insights, we get the chance to surprise and delight our customers.
Recently, we had a really nice interaction with one of our customers. As usual we sent our post case survey and asked "Is there anything we could have done better?". It's easy to dismiss that kind of sentence as a cultural pleasantry that goes in the same bucket as "how are you?" When our customer joked back, "Well, you could have sent donuts," it would have been easy to laugh at the playful taunt. But since when is the easy thing the rewarding thing?
So we decided to push back. How dare they!? That playful volley had brought the ball back into our court. As the high lob languidly arched into range, we knew what we had to do. We had to smash it back as hard as we could. THERE SHALL BE DONUTS. Our only option was donuts. Oh, we could have done bear claws, or perhaps even fritters (which I personally feel are superior), but that kind of strategic thinking has no place in the world of pastries. Our return salvo could only be round fried dough with a hole in it. Glazed? Yes please. Sprinkles? Er… well I guess it could not hurt to cover our bases. Crullers away!
The result? Possibly the most joyful thank you email I've ever received. It was one of those emails, I just had to forward to the entire company and the buzz around the office was palpable. A certain C-Level Exec admitted to getting a little teary eyed.
Today I received a delivery of doughnuts. Jobvite sent doughnuts. You sent us doughnuts! We were speechless.
You all have the absolute best sense of humor! Thank you being an amazing company to work with and most importantly, thank you for the doughnuts!
I'm not certain who was responsible for sending the doughnuts, or what happened behind the scenes to make it happen, but I want to make sure they know it made our day! Thank you! Thank you!
Mission accomplished! A simple business call got turned into fun. Scrumptious, glazed, fun. More importantly, in making our customer's day, they in turn made our day! The most delicious ROI of all.