In honor of Veterans Day, we're showcasing a few of our global customers that are making a difference by hiring Veterans. Our Engage team works with many of these customers and know the importance of attracting, interviewing, and hiring top talent who happen to be Veterans. We hope their stories and best practices inspire you and your talent acquisition team.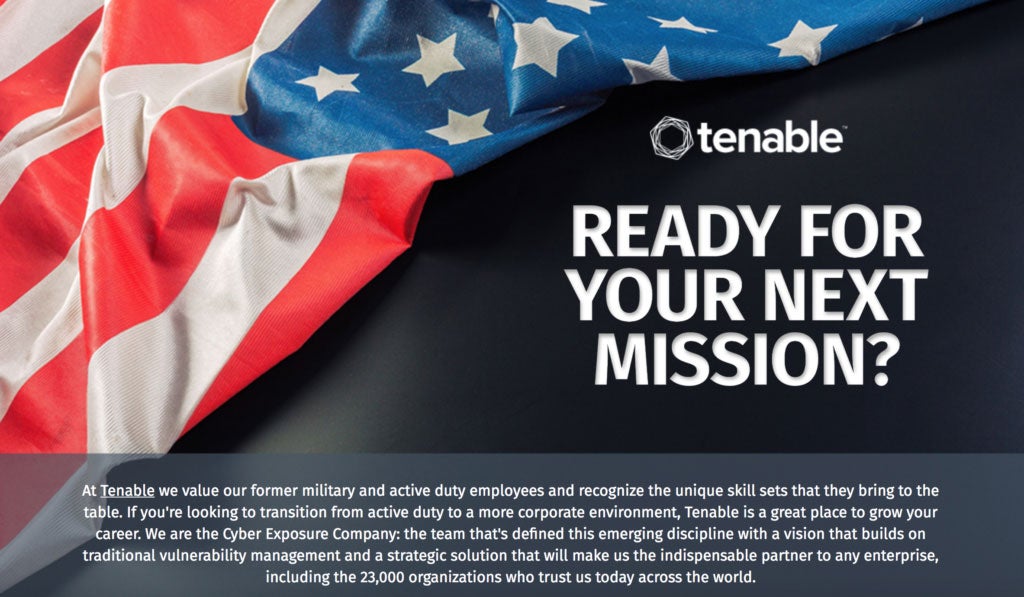 Tenable
Leading the Global Recruiting team for one of the world's most-respected Cyber Security Companies in the world, Sean Mitchell has made hiring Military Veterans a priority. He's done so by creating a culture where his team is constantly attracting, interacting with, and hiring veterans for key roles. By leveraging Jobvite Engage for their recruitment marketing CRM, and our Strategic Services team, Tenable has created an interactive landing page to attract Veterans.  They can find out more about the company, hear the stories of current employees that served in the military, and get directed straight to the Tenable Career Website to apply for jobs.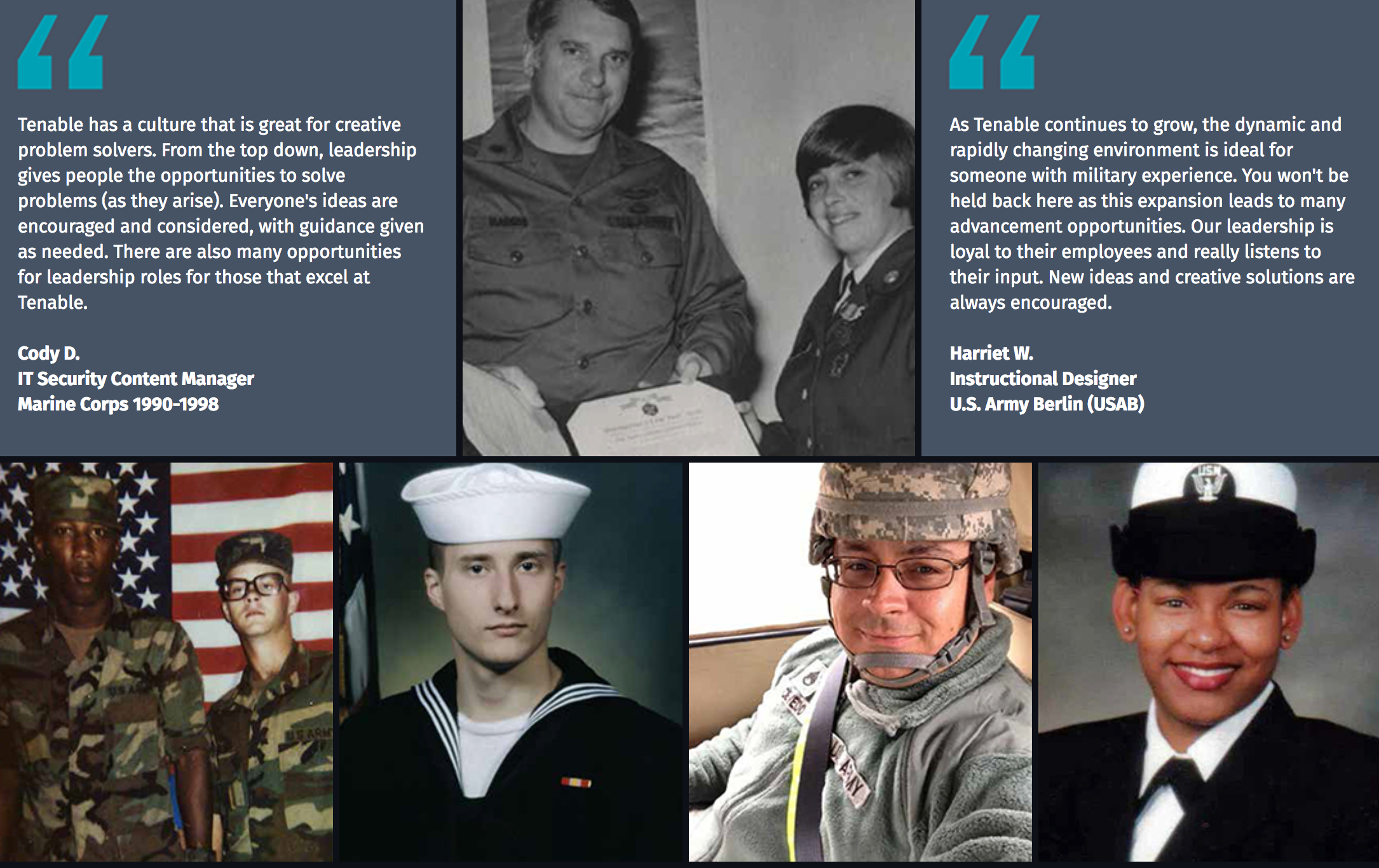 Schneider Electric
Slater Waltz knows a thing or two about recruiting from the military. As a former member of the US Marine Corps, he now works to build a talent pipeline and hire top military candidates for Schneider Electric. He uses branded email campaigns to provide a powerful first impression.
Slater also knows that with an initiative as important as this, that you have to have a few allies. He's using Jobvite Engage to create a custom landing page that allows current and former military to quickly take their own journey to find out more about Schneider Electric's culture. They can also take 30 seconds to join their talent community to stay up to date on future career opportunities.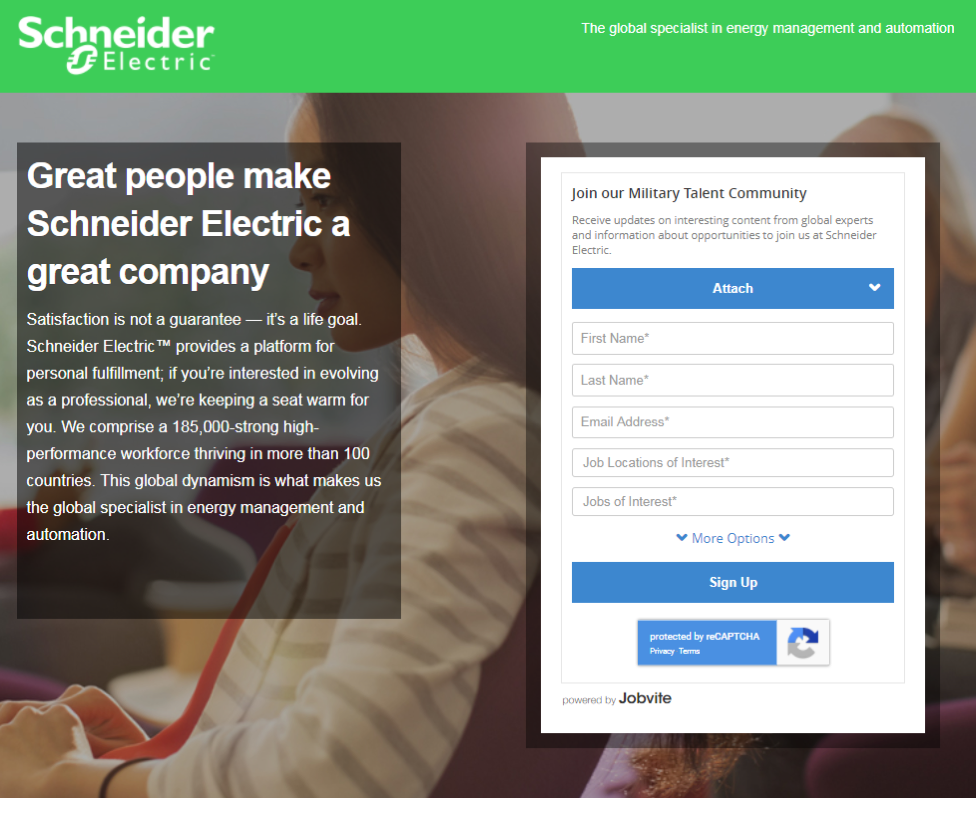 We asked Slater to share a few words on the importance of organizations hiring Veterans and this was his response:
"Veterans acquire unique skill sets that transfer into Schneider Electric portfolio of products and job opportunities. At every stage of their careers in the military they are trained in leadership, chain of command, focused on execution, team players while receiving a wide range of education, technical training including on the job training. Veterans are strong contributors and they understand challenging situations while taking the initiative to demonstrate their capabilities.
For Schneider Electric, supporting veterans goes beyond military hiring activities that we participate in throughout the year. Our employees also support veteran causes through Greenlight a Vet, care package donations and various monetary contributions to veteran organizations.
We have developed a comprehensive military outreach program that not only supports transitioning veterans out of the military, but mentors our current Veteran Schneider Electric employees through the SE Veteran BRG."
CA Technologies
There are few global talent acquisition teams with a more progressive employer brand than CA Technologies. So when they weigh in on the importance of hiring veterans the world listens. Take their recent approach to Veterans Day.
They have a blog showcasing current employees that are former military veterans which also suggest tips in how they can make the transition.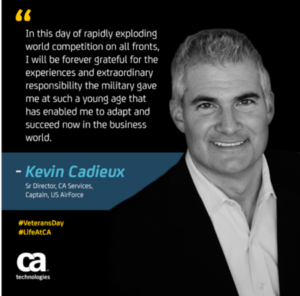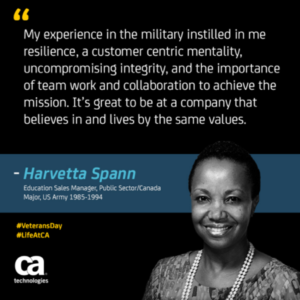 CA Technologies has also added thousands of contacts into their recruiting CRM, Jobvite Engage. By doing so with one click they have access to targeted talent pools of former veterans they can quickly engage with via branded email campaigns. The global talent team can then track the analytics and success on hiring Veterans.  
If you're curious as to "What does #BringWhatYouBring mean to CA Technologies in regards to Veterans?" Cathy Bible, Senior Marketing Specialist at CA Technologies summed it up nicely:
"#BringWhatYouBring is about valuing diversity. It's well known that diversity of thought, background and experience powers business success. The experience and skills gained from a military background – things such as discipline, teamwork, leadership and mission focus – align closely with our company's mission and DNA, making veterans especially valuable to us."
She also shared that, "As far as recruiting efforts, we attend a number of veteran-specific career fairs throughout the year. We also partner with and recruit from NPower, a non-profit committed to building brighter futures for veterans by providing access to tech training that helps them build necessary skills for a career in IT."
There are many ways to honor those who have served in the military for Veterans Day. Simply saying, "thank you" is the easiest way to start. But if you really want to make an impact, make sure you follow the tips of the companies above to make attracting and hiring Veterans a key priority for 2018!