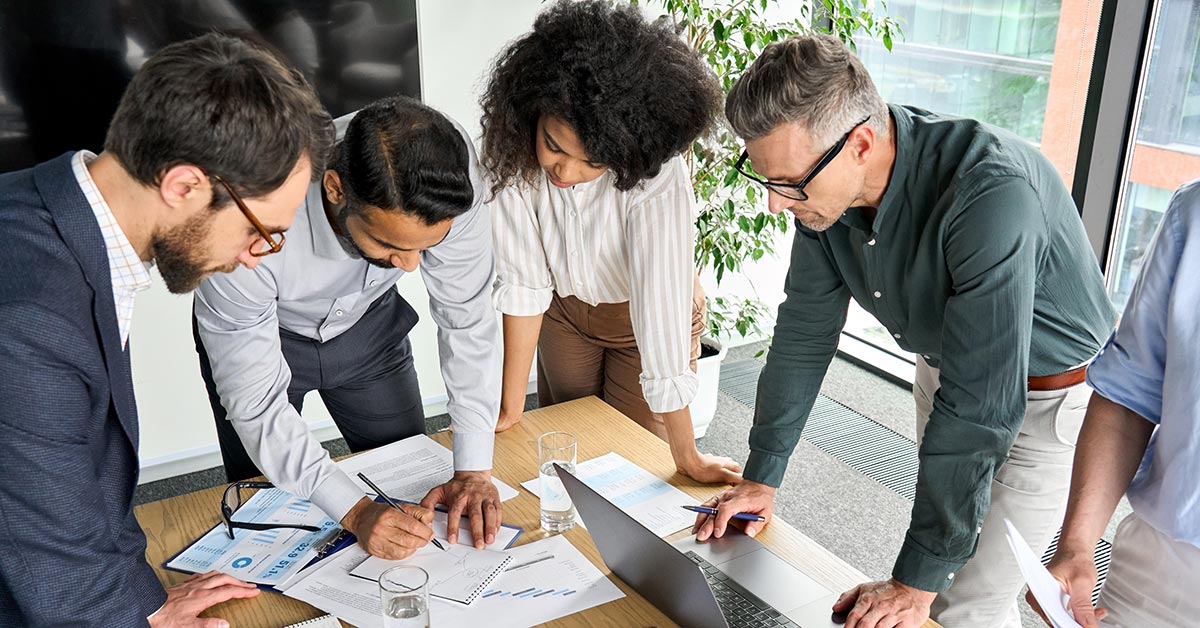 Within organizations large and small, the recruiting function has a huge opportunity to become more agile using data-driven insights, especially in light of the unsteady talent landscape.
Scaling recruiting to respond to changes in the market, shifting needs within the business, and overall economic uncertainty can help your organization make smarter, faster decisions and spot any areas that need to be addressed to streamline your hiring efforts.
As the talent landscape continues to evolve and challenges arise, recruiting teams have had to get even more nimble and learn how to analyze talent data in real-time to adjust and improve their processes.
From the number of open reqs to application source to candidate conversion rates, time to fill, quality of candidate, source of hire, DEI data, and internal mobility, there is virtually no end to the recruiting data you can track.
So, it's critical to find out the most important recruiting metrics to your business and then keep a clear pulse on that data.
When you leverage a data-driven approach, you can more easily deliver better candidates faster and continuously improve how you hire talent for your company.
Let's dig in a bit further on some of the latest data from Employ across its 18,000 customers to provide a broad perspective of how companies right now are preparing for the years ahead and to give insights into how you can optimize your function for success in the coming year.
The latest data-driven recruitment insights
According to Employ data, tech is at the forefront of many enterprises as the labor market softens. While 33% of HR decision-makers expect spending to remain the same for the foreseeable future, a majority of HR decision-makers (54%) expect to increase recruitment spending in their company.
Those organizations that plan to increase recruiting spend will most often do so by increasing their budgets for new recruitment technology, including:
Applicant tracking systems (59%)
DEI initiatives (51%)
Candidate relationship management (50%)
Sourcing, including RPO (47%)
Career sites (41%)
Offers and onboarding (41%)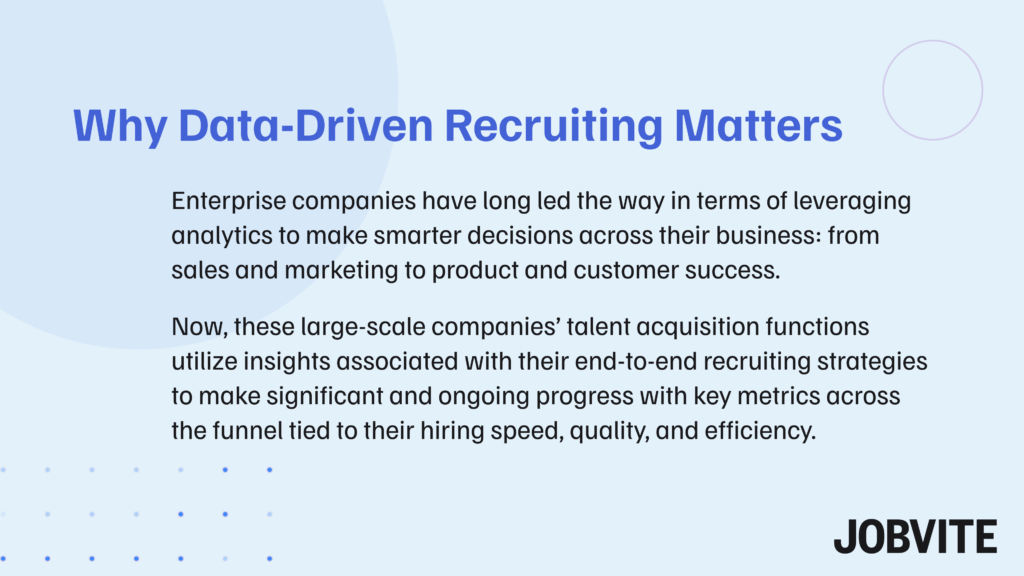 Purpose-built recruitment software for your company's size and recruiting complexity enables your teams to collect critical talent insights and provide real-time info on key metrics, making the hiring process:
More efficient for recruiters
More impactful for hiring managers
More desirable for candidates
Recruitment technology can bring data together all in one place so you can see up-to-date candidate experience metrics, sourcing effectiveness metrics, and overall hiring metrics.
Tracking recruiting benchmarks can also help your business understand where their best sources of talent come from, so you can deliver more predictable hiring outcomes and get even more agile in your recruiting approach.
Remember: Recruiting is all about knowing how to make fast, smart decisions.
Top benefits of data-driven recruitment
Data-driven recruitment uses analytics specifically for talent acquisition to inform and improve the recruiting process. For talent acquisition professionals, getting a handle on their analytics, creating visibility, and shining a light on the most vital aspects of their performance is critically important.
By tracking metrics tied to your recruitment funnel, sourcing performance, quality of your talent pool, candidate satisfaction scores, and diversity, you can see how your recruiting strategy is performing, fine-tune what's broken in the hiring process, and continuously improve.
When an organization is dedicated to increasing agility and scalability by leveraging recruiting data and analytics, it can benefit greatly. Here are a few of the most common benefits:
1) Improved sourcing effectiveness
For too long, recruiters and hiring managers have had to find candidates based on feel and previous experience. But, the sheer volume of open positions and time required to source quality candidates requires a better approach.
Data-driven recruitment can help you uncover more quality candidates by specifically understanding source effectiveness and measuring items like the number and quality of sourced hires.
Having the ability to measure, analyze, and refine your sourcing function is a key component to optimizing your entire recruiting operation.
With solid strategies, defined processes, intelligent CRM and sourcing technology, and powerful analytics, sourcing can become a core competency for any organization. This means you can find more talent from the places that deliver better hires consistently for your org.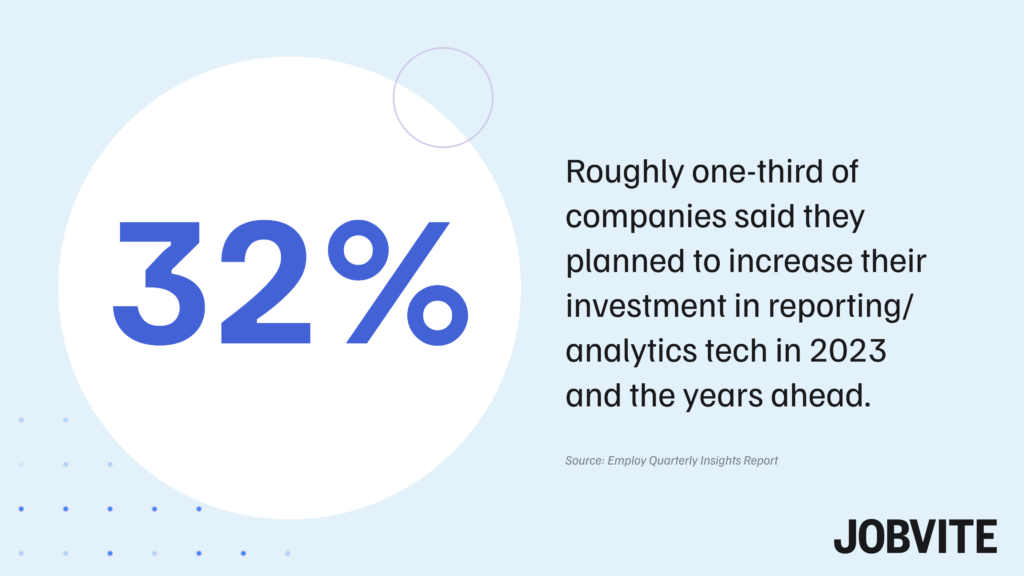 2) Enhanced DEI initiatives
Leveraging data-driven insights and analytics can also enhance agile recruiting by better supporting diversity, equity, and inclusion.
When you are laser focused on expanding the inclusiveness of your workforce, recruiting analytics can help you track and report on the diversity of your hiring funnel based on key DEI data.
With insights to help identify top DEI candidates, you take the time and guesswork out diversity hiring while eliminating unconscious bias.
And that helps ensure you hire candidates who will widen the perspectives of your organization and contribute to higher performance levels in your business.
3) Decreased hiring costs
By focusing on the best sources for talent and streamlining the hiring process using data-driven insights, your business can help decrease overall hiring costs.
Ensuring you identify and tackle roadblocks to hiring, you can decrease time to fill or the elapsed time between a job opening being posted and when it's filled.
Measuring time to fill can help you understand the real cost of filling a role, especially since productivity and revenue can both suffer the longer a job remains open.
Plus, starting with more qualified candidates allows you to save time and resources on talent that may be a poor fit for the role.
Having those key insights into where you should post your jobs and identifying which channels bring the highest-quality candidates takes the guesswork out of hiring, helping you reduce hiring costs and empowering you to fill positions more quickly.
4) Improved candidate experience
Collecting data regarding your hiring process can help you identify pain points for candidates and create a more positive candidate experience overall.
Identifying candidate conversion rates along the recruiting journey helps you identify candidate engagement levels, especially as you encourage applications.
Perhaps you are not converting at the point of application, or you are seeing candidates fall off after the interview process. Or, maybe candidates are not accepting offers, and your offer-to-acceptance ratio has decreased.
Whatever it is, understanding key areas throughout the candidate experience can help you pinpoint areas where potential hires are not receiving an optimal candidate experience so you can work to improve their interactions.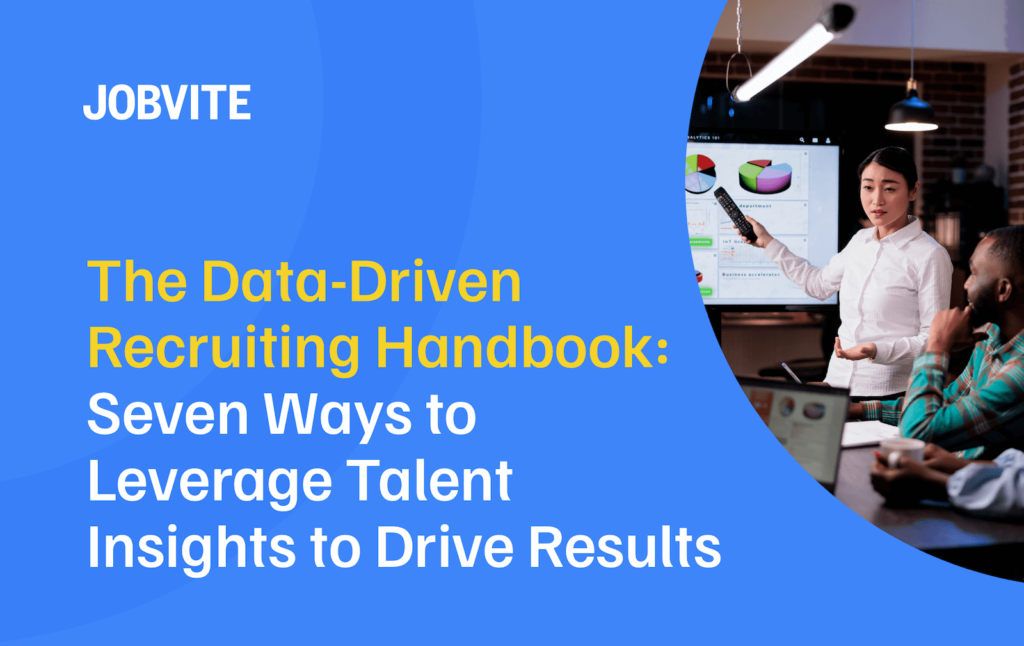 3 strategies to improve recruiting outcomes
Deliver positive experiences
Take care to invest in the needs of hiring managers, recruiters, and candidates, and deliver positive experiences for these audiences.
Work to shorten feedback loops, improve communication and collaboration, and engage each stakeholder more deeply within the hiring process.
If applicable, focus on engaging with gig workers and nurturing relationships with individuals who are in revenue-generating roles.
Ensure the hiring process delivers positive experiences that enhance the company's employer brand.
Identify where to optimize processes
Leverage data-driven insights and analytics that inform where bottlenecks exist in the recruiting process and uncover opportunities to speed up time to hire and boost the quality of candidates.
By keeping a clear pulse on applicant flow and the talent pipeline, companies can uncover insights into where the recruiting process can be improved.
Leverage purpose-built recruitment technology
Adopt recruitment software and talent acquisition technology that is tailor-made for the complexity, size, and hiring needs of the organization.
By investing in purpose-built technology, you can ensure you are more competitive to connect with top talent and can streamline your processes.
Learn how to plan during uncertainty
Planning during times of uncertainty is one of the biggest challenges HR decision-makers, recruiting experts, and talent acquisition professionals face when it comes to guiding the future of their org.
As companies prepare and adjust their hiring plans for the coming year, implementing a scalable and predictable hiring strategy will be essential to attracting, hiring, and onboarding quality talent that will drive organizational performance and alleviate the pressures from market slowdowns.
The insights available in this article are only a starting point. For more data, key takeaways, and actionable insights, download the full Employ Quarterly Insights Report here.
Learn how you and your TA team can optimize your data-driven recruitment approach and better connect with and convert top candidates using our complete Talent Acquisition Suite.