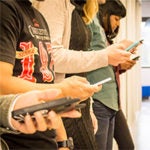 Jobvite's eBook, "Smartphone, Dumb Recruiting: Why Mobile is a Must," takes a look at common errors that might hinder your success, while offering critical tips to help you close the chasm that separates you from today's young, skilled, and mobile workforce.
You know mobile platforms are becoming more ubiquitous—and you know this impacts almost every department of every business on the planet. But do you know how to optimize your recruiting strategies for a mobile world? Have you even started?
Don't worry. You're not alone.
37% of Millennial job seekers expect mobile career sites—but 80% of businesses today don't offer them.
27% of Millennial job seekers expect to apply for jobs via mobile device—but 95% of Fortune 500 companies won't let them.
I know misery loves company, but it's not an excuse for inaction. Mobile devices will outnumber people in less than two years. That means that these obvious gaps between candidate expectations and company progress must be addressed quickly, because mobile isn't slowing down or going away. It's your responsibility to understand what job seekers need from a mobile recruiting standpoint—and then meet those needs head-on.
I invite you to read "Smartphone, Dumb Recruiting: Why Mobile is a Must" and get started on improving your mobile strategy. As always, your feedback matters, so send us your questions or comments below.