Jobvite is proud to partner with Survale to bring the power of automated candidate feedback to the recruiting and hiring process.
Survale's Workforce Feedback and Analytics Platform now works with Jobvite to provide an integrated way to optimize candidate experience.
How does it work? Simple.
Survale's "Always On" feedback button embeds quick surveys on career sites for candidates to provide feedback while they research companies and jobs (and before they leave negative Glassdoor reviews).
Candidates who provide feedback are automatically followed up with through "Always On" surveys to measure satisfaction over time.
Once a candidate applies to a job, Survale monitors the Jobvite status and can send custom surveys via email whenever a candidate reaches a desired status to gather feedback about.
Survale's cutting edge dashboards give configurable, state of the art analytics about what's going right and what could be improved with candidate experience and the overall recruiting processes.
For example, when a candidate browses your career site, you can gain insight about site navigation, employer brand effectiveness, application process, and more.
Once a candidate applies, you can gather feedback on the application process, follow up communications, and overall satisfaction with the process up to that point
For candidates who reach phone screen status, Survale can automatically get feedback from that candidate about the screener, the process, and the follow up. At the same time, Survale can automatically survey the screener for feedback about the candidate.
At the interview stage, Survale can survey the candidate about the interview process, the hiring manager performance, and follow up. Similarly, Survale can survey the hiring manager about the candidate's ability to do the job.
Once a candidate is hired, Survale can collect feedback from the new hire on the onboarding process, uncovering areas that are working well and other areas that might need improvement. Survale can also simultaneously pulse hiring managers on their satisfaction with the talent acquisition team.
Then, Survale can gather feedback from the hiring manager and new hire at set intervals to measure the quality of hire throughout the first year.
The power of the Survale and Jobvite partnership lies in the ability to automatically gather feedback throughout the talent lifecycle and ensure that recruiters, candidates, and hiring managers work together to optimize candidate experience and improve recruiting results. Once Survale is set up, all the surveys go out automatically. Just log in to your Survale dashboard and you'll get powerful analytics that makes it easy to hone in on trends and benchmarks that can help you optimize all aspects of candidate experience and recruiting processes.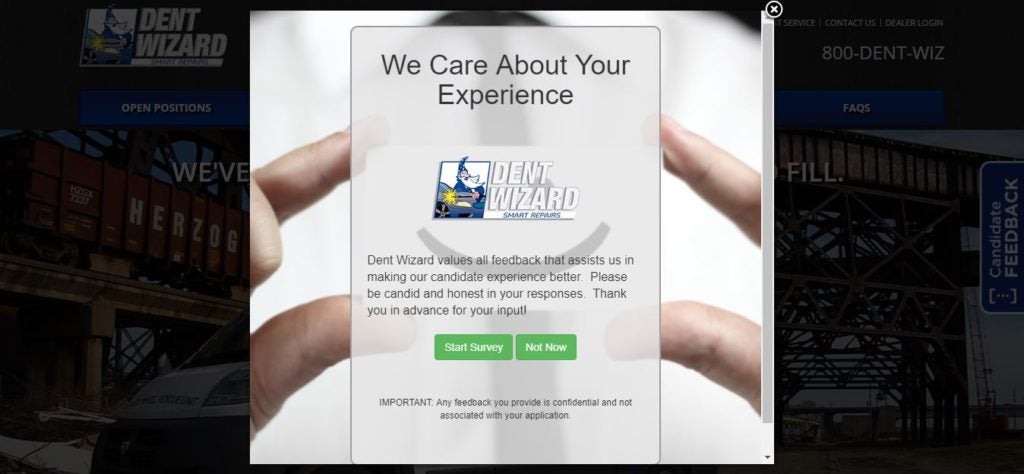 Jobvite customer, Dent Wizard has already taken advantage of this new partnership and has quickly seen results:
"Survale gives us a clear picture of our candidate experience from career site to interview and beyond. We're already using this new data to improve our processes and we are beginning to set up a system for measuring the quality of hire."
-Tony Suzda, Manager of Talent Acquisition, Dent Wizard
Check out this short video and contact your Jobvite representative to learn more about Survale.