If you've been following our series on Social Recruiting effectiveness, then you'll hopefully have become increasingly adept at using mainstream social media channels for recruitment–the likes of LinkedIn, Twitter, and Facebook. But should you also be looking at raising your profile on some of the newer entrants, such as Snapchat? The answer is "that depends" and here I'll look to give you the insights to decide if this is an option you should look to pursue.
If you're not already familiar with Snapchat, it's a messaging app that lets you take a photo or a video, then layer it with text, doodles or filters, and then send this to your friends. They can view your snap for up to 10 seconds before it disappears – or for up to 24 hours if you've shared your snap as a public story.
If this all sounds rather different to the other social channels you are actively recruiting on, that's because it is rather different! Whether it's right for you will in part depend on the target audience you're eager to reach. Snapchat's popularity with millennials is one big reason you might choose to experiment with it. There are now 100 million+ daily active users on Snapchat and its high engagement levels make it an interesting addition to your social recruiting arsenal. Particularly if you're looking to target high school and college students or young adults, the largest demographic groups that Snapchat reaches.
The Evolution of Snapchat into a Viable Recruiting Channel
Snapchat's potential as a recruiting channel ironically came to the fore through Snapchat's own use of the app to poach tech engineers from the likes of Uber and Airbnb. But since then it's been used by a wide variety of employers, so it's no longer just the tech industry hiring talent this way. Think it all sounds a little too risque for you? Well then you might be surprised to read these examples of both Goldman Sachs and JP Morgan using Snapchat to recruit.
So first things first. The questions to ask yourself are:
Is my target audience on Snapchat?

Can I consistently create the content needed to maintain a worthwhile presence on the platform (if using it for employer branding)?

Do I have the necessary budget to market our openings to our target audience on Snapchat (if using it to fill specific vacancies)?
Point 1 can be summarised by saying this is a place to reach and engage with Millennials. If you have significant hiring targets for this demographic, then it's worth considering. Hootsuite's blog provides more insights on the demographics you can expect to reach with Snapchat. Keep in mind also that this demographic reach is changing as an increasing number of older users also start using it, so who should be recruiting with Snapchat will likely evolve over time.
Employer Branding – Creating The Content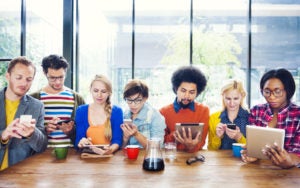 Now Snapchat is all about capturing a moment–be that through videos or photos. Having captured something, you can then tweak these moments with filters, emojis, text overlays and doodles. Note that this means there are no links, no promotional blog posts or auto-scheduled updates. Snapchat is all about capturing moments in real time. You'll be sharing live moments with your connections, either by adding it to "My Story" for all your followers to see, or by messaging it directly to your "friends".
Elsewhere on social media, companies invest heavily in "cultivating" their social channels with perfect pictures of their employees and their workplace. These assets can then be reused again and again. Snapchat is different–people will expect to see raw footage and photos, rather than photoshopped perfection. That takes a little getting used to for someone whose social media upbringing has been in the more polished world of LinkedIn / Twitter / Facebook recruiting.
Some things to keep in mind when considering what types of content you might share:
Create content that's just for Snapchat or give your followers "first peek" at things that will only later appear on other social media. Give people a reason to follow you here if they're already following you elsewhere. You want that because the engagement on Snapchat is likely to be higher.

If someone is following you, there is a high probability they will see your Stories, which is one of the big upsides of Snapchat over other social media. So while it might seem like more work to create content for Snapchat that you can't re-use time and again, the flip side is that more people are likely to see the content on the first time of sharing than if shared on other social channels.

The entire interface of Snapchat is vertical, so post videos and photos with that in mind.

Snaps you send to friends last 1-10 seconds; snaps you add to your story last 24 hours.
Reaching The Right Audience
Having the right content is all important, but so is drawing an audience to your account. One tip for success here is to remember to promote your Snapchat account on your other social media profiles and in your email footers. It's not easy to research and find people to follow on Snapchat, so you need to proactively draw people to your profile. You aren't going to get very far with the platform if the people you're trying to reach don't know you use it!
Another idea you could consider is a "takeover." Many corporate Snapchat accounts do "takeovers" with popular influencers. These influencers will essentially take control of your Snapchat for a short period of time, posting content on your behalf. Because they'll alert their own followers to this, some of their followers will migrate across to your account, expanding your audience and influencing how your brand is perceived.
A variant of this that brings authenticity to your account (but not the surge in followers) is giving your employees the reins to do a "Snapchat takeover" for the day. Followers can then see what a typical day is like for an employee of your company, and gain insights about the pros and cons of working for your business.
As you'll have perceived already, this organic growth of audience and content-sharing is primarily an employer branding initiative. Over time it will help shape how potential employees perceive your company and boost the effectiveness of all your other recruiting activities.
Paying To Reach The Snapchat Audience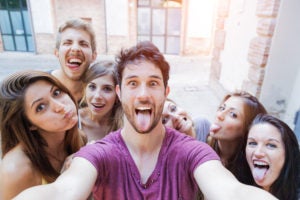 What else could a company do if the priority is to get results fast and generate applicants for particular hiring campaigns? Well there are a couple of paid marketing options to consider on Snapchat. The first of these is the geofilters approach. This allows you to pay to create an overlay that users within a designated geographic area can view and put on top of their snap. This means that both the creator of the snap sees the overlay's message – as do the people who the creator shares the snap with.
A quick google search will pull up multiple examples of successful recruiting campaigns that have used geo-filters in this way. The example of Snapchat trying to poach from Uber and Airbnb, shared in the link above, is the perfect example of how this can be made to work if you're targeting people at particular companies or from particular campuses.
The other option you might consider is paying for the "Two Cents" advertising approach. This allows you to have 10-second ads run in between articles and videos on Snapchat's Discover platform. This is an effective way of reaching Snapchat users en masse and more details of this approach can be found on AdAge.
Concluding Remarks
Hopefully I've helped to overcome your nervousness about branching out onto Snapchat and given you some ideas of what to focus on doing to produce results. One last observation would be that social recruiting works best when it's done well. I'd rather see a company reduce the number of social sites it tries to recruit on, but does a really stellar job on those sites, than try to be absolutely everywhere but then not be able to give each site the time needed to do a great job. Do keep that in mind with Snapchat and any other social channels you're thinking of launching on in the coming months.
About the Author
Tony Restell is the Founder of social media agency Social-Hire.com and helps candidates and recruiters leverage social media. You can find Tony on Twitter; or join him on one of his forthcoming webinars where he'll walk you step by step through the processes he uses to get results for recruiting teams on social media.