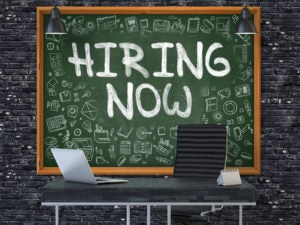 Jobvite is in the business of helping candidates find their best opportunities and companies hire the best talent. Right now, work seems a little uncertain and unsteady. We want to make these crazy times a little brighter and easier if we can.  
We'll be updating a list of companies hiring around the country every Friday as we receive new information. If you're a candidate looking for a job, we hope these lists are useful for you.  
For companies hiring, if you want to be featured in next week's update, please reach out to , and we'll make sure to add your job postings!  
*Listings that are bolded are new additions since last Friday's post.
Healthcare Companies Hiring
Tech Companies Hiring
Security Companies Hiring
Non-Profit and Educational Organizations Hiring
Finance & Banking Companies Hiring
Food Companies Hiring
Grocery & Delivery Companies Hiring
Retailers Hiring
Distribution/Supply Chain Companies Hiring
Manufacturing Companies Hiring
Other Companies Hiring
Sources: Indy Star ; The Indy Channel; Vox; The Penny Hoarder; TECHPOINT; IndyChamber Rapid Response Hub; NY1 ; Patch NY; SiLive; CBS6 Albany; WGRZ;  San Mateo Economic Development Association; Mercury News; Fox Business; USA Today; The Muse; San Francisco Chronicle; Yahoo Finance; Powderkeg
If you're a candidate looking for a new opportunity, we've put together a few easy tips you can implement today to shine brighter than the competition. Check it out and don't hesitate to reach out to us with any questions.