Customers from all over the country (and as far away as the U.K. and Australia) joined us yesterday in Redwood City, CA for the Jobvite Customer Summit 2011. Thanks to everyone who showed up, participated and especially to those who worked with us to create workshops and panel discussions that were informative and fun.
We started off with some hands-on product workshops led by Jobvite folks and customers, including these highlights:
Hiring is Everyone's Job Workshop: This workshop focused on how to productively engage hiring managers and employees in the talent hunt. Lori Jensen joined us to provide examples of how people throughout the organization at OPOWER have embraced Jobvite for all things recruiting.
How to Build a Winning Social Media and Referral Strategy: This session provided tips on using Jobvite to support winning social recruiting and referrals strategies. Andrew Cerda with Yelp jumped in with examples of how Yelp has increased their employee referral rate from 30% to 40% during a period of very rapid growth.
CRM, Sourcing and Campaigns: Jeremy Langhans with Starbucks Coffee Company helped out Jobvite's Jamie Glenn with practical tips on using on effective sourcing and campaign management techniques using Jobvite Source, our social sourcing and CRM application.
Configuration and Getting Started Workshops: Repeat customers Mason Wong and Jerry McCreary shared their wisdom about creating a great marriage between the hiring process and Jobvite recruiting software.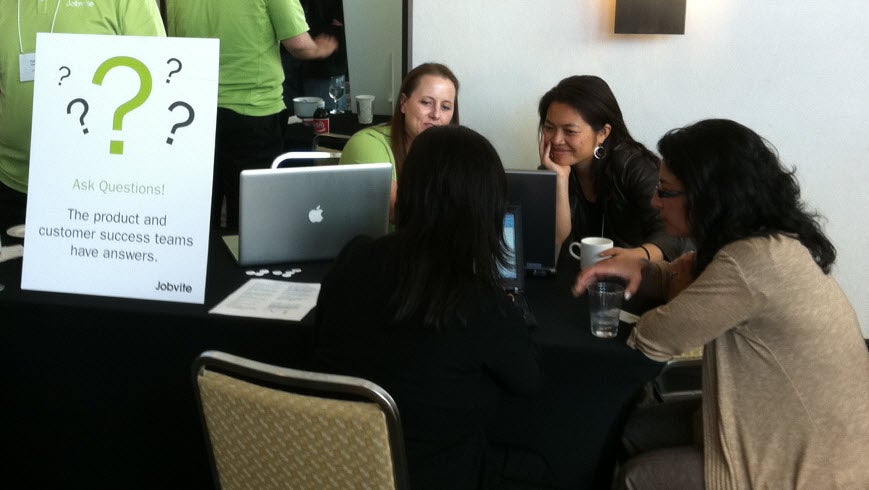 The afternoon general sessions featured HR thought leaders who stirred up great discussion and conversation on Twitter (#jobvitesummit).
Dan Finnigan, Jobvite CEO, led off with a big picture look at demographic and employment trends contributing to the increasingly heated competition for skilled talent. This interactive map of job gains and losses elicited quite a few comments as the crowd watched the losses balloon.
Robert Sutton, New York Times bestselling author of The No Asshole Rule and Good Boss, Bad Boss was our keynote speaker at the summit with a discussion of "What Great Bosses Do: Leading Innovation and Implementation." Lots of observations were made in 140 character mode, like this one: Heard Robert Sutton speak at #jobvitesummit – best takeaway – the accepted definition of a superstar is one that makes others be/do better.
Executive panel on challenges and strategies for hiring now: Insights from Dan Jessup, VP of Human Resources at Groupon; Steve Leech, VP of Human Resources at Shutterfly; William Uranga, Senior Director of Talent Acquisition at TiVo; and Vicki Bernholz, SVP of Human Resources at Lithium Technologies. These four leaders riffed on the hiring trends data and talked about how they have re-shaped their strategies to keep winning top talent.
Social media surprises: Led by Jessica Lee, VP of Talent Acquisition at APCO Worldwide and editor of Fistful of Talent with Jeremy Langhans of Starbucks Coffee Company and Cheryl Anne Fernandez of Zappos.com, Inc. One takeaway? Employees are better brand evangelists than recruiters.
Tim Sanders was back to moderate the afternoon sessions and he summed up a few key points before we left:
The war for talent is real and financial compensation is not enough to win it.
Think about your emotional comp plan – the emotional content of your company and job. It needs to have balance, dignity and interest.
The candidate experience being crafted by the speakers is a powerful way to attract talent; think about creating an area of excellence in your company that focuses on it.
Financial results and media buzz come and go, but your reputation doesn't wax and wane as rapidly.
If your executive management is wary about social media, start them off by listening to the social media chatter about your company. Listening is addictive.
A tweet that resonated with everyone summed up the importance of a personal voice and connection in the recruiting process: @williamu Great point by @jer425 : "Folks want to hear about opportunities from a person, not a brand." #jobvitesummit
A big thanks to Jeremy Langhans for taking over @jobvite for the day and providing commentary all day long. You can find him back over at @starbucksjobs and @jer425.