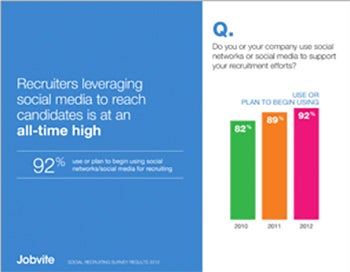 In our coverage of the 2012 Social Recruiting Survey, we've covered the growing popularity for social recruiting (92% will use it in 2012), and the power of online profiles now have (86% will review social profiles). The reason social recruiting has become a nearly universal tool in the war for talent is simple: it just works better. It's an effective way to take a comprehensive look at a large candidate pool and quickly add high-quality talent.
In our press release on Monday, Eric Hollander, global recruiting manager at Chiquita Brands International, said, "Social recruiting became the norm because it works so well. At Chiquita, we use Jobvite to reach a pool of talent that we couldn't access using traditional methods. We're able to turn our entire company into recruiters, and we've gotten tremendous results from employee referrals and candidates we found via social networks."
Chiquita is far from alone (and we want to note, just 13 survey respondents were Jobvite customers so the results aren't skewed by using our platform for social recruiting):
More than 7 out of 10 employers have successfully hired a candidate through social media (73%). This is up 15 points from 58% in 2010.
Of those with social hires, 89% of respondents have hired from LinkedIn. Fewer have found success through Facebook (25%) or Twitter (15%), but this is likely to rise in coming years as recruiting usage grows on these networks.
Not only does social recruiting result in successful hires, it also improves the quantity and quality of candidates, increases employee referrals and reduces the time to hire – making it a tremendous return on investment.
Since implementing social recruiting, almost half (49%) received more candidates from which to choose.
More than 4 out of 10 (43%) say the quality of applicants has improved.
1/3 of respondents see more employee referrals, which tend to lead to the most valuable hires.
20% reported it takes less time to hire when using social recruiting.
As recruiters continue to collect more knowledge on social recruiting best practices, the number of quality hires acquired through social media increases. The role a candidate's social activity plays in hiring decisions also grows in importance. Hiring in and of itself has broadened its reach to include a multitude of social media sources as companies continue to seek out new ways to find and hire the best talent.
To read the full report, you can download a free copy here. The infographic on our site is handy if you'd like to share the stats.