We recently launched a free social recruiting service, Jobvite Share that makes it possible for anyone to socialize their jobs in their networks and the open web.
There was a time when posting your jobs on job boards and/or on your website was enough for them to be discovered. However, in our world of real time lifestream (the constant flow of social activity and information), people have new ways of discovering information – including job information. Now if you are not leveraging the social networks, you run the risk of your jobs not being discovered by passive job seekers. But it can take time, effort and expertise to recruit in social networks. And traditional recruiting software doesn't address this problem.
We had developed technologies to make social recruiting easy and efficient for subscribers to our software-as-a-service applications. But the team also wanted to make an efficient, easy and free way to leverage social networks for recruiting. We realized that this free tool would be only be successful if it was intuitive, easy to understand and simple to use. So we built it from the ground up on consumer grade technologies and familiar web 2.0 paradigms. With Jobvite Share, you can socialize your jobs in three simple steps – Share, Match and Track.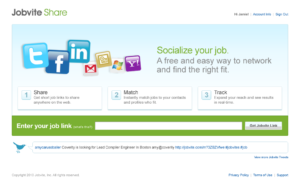 Of course, behind the simplicity is the hidden complexity of technology. Here' s a little about what happens behind the scenes during each simple step.
Share – By entering a URL or job description, users get short, trackable Jobvite links to share anywhere on the social Web. When you enter an URL, behind the scenes, we run our machine learning based algorithmic crawler that scans the web content on real-time basis and quickly discerns job descriptions, titles and location for the entered URL. Like many learning systems, when this system comes across a pattern that it has never encountered before, it learns from your actions and adds this new knowledge to its knowledge base for future.
Match – We put together several notable technology components in this step to make it incredibly easy to select and target appropriate contacts in your social networks or email address books. A nice web 2.0 picker widget lets you browse your entire network across multiple social network platforms. Another machine learning system – the Jobvite matching and recommendation engine – analyzes the job description and matches it to thousands of profiles on a number of parameters across your networks on a real-time basis. Then we optimize the Jobvite content for each social network, including an automatically generated short URL. But the user simply sees a selection of the most relevant profiles, personalizes the message and hits send.
Track – Because people share job descriptions all over the web, we give users an easy way to generate, label and track multiple shortened links. The user gets a short URL for that source label that can be posted anywhere – on a blog entry, a website, a job ad. Anyone who clicks on that job link can also send a Jobvite to their connections – and their connections can do the same. What's cool behind the scenes is that every time someone new sends a Jobvite, a new short URL is automatically generated. The Jobvite Share data warehouse tracks and stores all the information from across the web about what happened to your Jobvites sent. The originator of the Jobvite can see where that Jobvite travels on the web, and the results of their social recruiting initiative, in real-time.
Now that we have given you a peek behind the technologies used in our Jobvite Share product, why don't give it a try and let your jobs be discovered in this social networking jungle.
It takes longer to read this blog post about what's going on under the hood of Jobvite Share than it does for you to send a Jobvite. Go ahead and socialize your job – see what talent you can discover for your open jobs with our free social recruiting site.