Leader in Social Recruiting Helps Designers Refine Their Job Search With Expert Sessions On Networking, Resumes, Portfolios and Interviews
BURLINGAME, CALIF., June 5, 2012 – Jobvite, the leading recruiting platform for the social web, today announced Jobvite's UX Resume and Portfolio Bootcamp. The free event on June 19 aims to help designers use their creative skills to improve their job hunt and design their dream careers.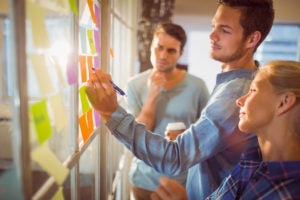 Jobvite Announces Free UX Resume and Portfolio Bootcamp And Career Fair
Jobvite's focused on helping connect talented people with job opportunities from customers – more than 600 companies including Zynga, Coupons.com, Yelp and many other Bay Area startups. It's also committed to exceptional user design for its own products and for employer career sites. These two passions combined to inspire Jobvite's UX bootcamp.
The event agenda covers using social media to connect with great companies, presenting a resume that reflects your talents, crafting a portfolio that tells your professional story, and to handle an in-person interview. A happy hour networking event will be open to Jobvite customers seeking to hire designers.
Jobvite's UX Resume and Portfolio Bootcamp
When: Tuesday, June 19 at 1:30 p.m.
Where: Jobvite headquarters, 270 East Lane, Suite 3, Burlingame, Calif.
Cost: Free
Presenters: Patrick Neeman, Director of User Experience at Jobvite; Dylan Campbell, Recruiter at Highlander Solutions; Lynn Teo, Chief Experience Officer at McCann Erickson; Coburn Hawk, Director of User Experience, Magento
Agenda:
| | |
| --- | --- |
| 1:00 pm – 1:30 pm | Registration |
| 1:30 pm – 2:00 pm | Welcome and Opening Remarks |
| 2:00 pm – 2:45 pm | Resume Revamp: How to Stand Out from the Pack |
| 2:45 pm – 3:30 pm | Work by Design: How to Find the Job You Love |
| 3:30 pm – 3:45 pm | Break |
| 3:45 pm – 4:30 pm | Portfolios Matter: Building the Portfolio to Win the Job |
| 4:30 pm – 5:15 pm | Networking Works: Using Facebook, Twitter and LinkedIn for Jobs |
| 5:15 pm – 7:00 pm | Happy Hour and Career Fair  |
Pre-register: http://jobvitejobshop.eventbrite.com/
"Creative, talented designers can make a world of difference for technology companies. But job hunting can be especially challenging because designers need the right work environment to flourish," said Kevin Nanney, vice president of Product Management at Jobvite. "The goal of the UX bootcamp is give people the skills and tools they need to design their dream careers. And if we find some great new talent for Jobvite's team or our customers, that's a nice bonus."
About Jobvite
Jobvite is the leading recruiting platform for the social web. Today's fastest-growing companies use applicant tracking, recruiter CRM and social recruiting software solutions from Jobvite to target the right talent and build the best teams. Jobvite is a complete, modular Software-as-a-Service (SaaS) platform which can optimize the speed, cost-effectiveness and ease of recruiting for any company. For more information, visit www.jobvite.com.
For Media Inquiries Contact