We're excited to announce that we've been named an Applicant Tracking Solutions  (ATS) Category Leader by GetApp – a place to review, compare, and evaluate business software solutions. GetApp, a Gartner company, takes into consideration a handful of requirements when analyzing each quarter's top ATS solutions. Below we take a look at a few of those, and the importance of each one when choosing an ATS.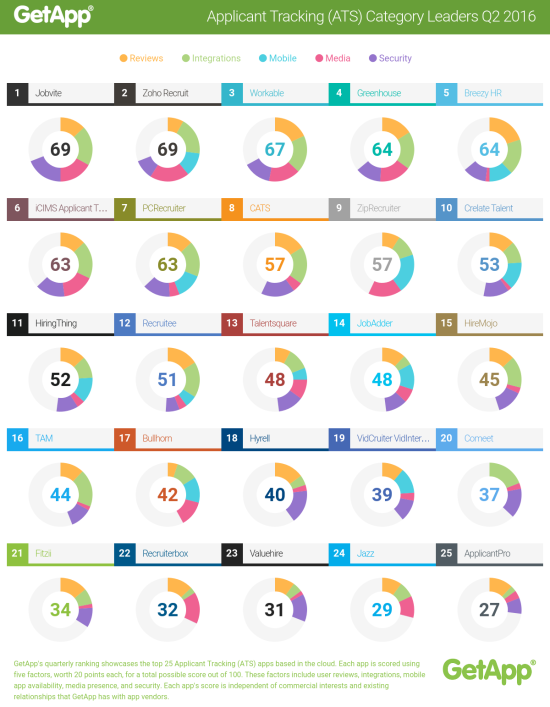 User Reviews
Genuine, real-life user reviews can give you a feel for what a product is really like in it's day to day instance. While a demo can show you all of the flashy features, a user review will give you a true sense of how the ATS will work for you in it's every day and more complex functions. Check out the review from Josh Emkes, a HRIS Analyst, that helped make Jobvite a leading ATS.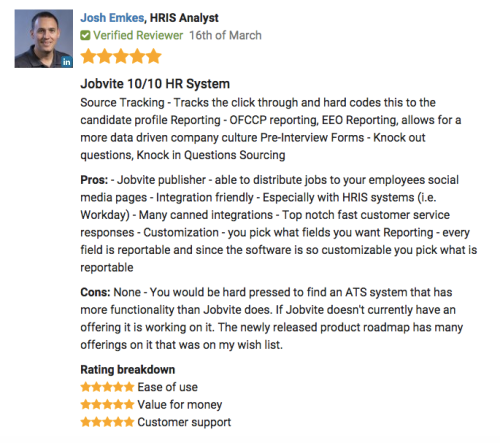 Security
Possibly one of the least talked about features, but one of the most important for users and their candidates is security. There is an immense amount of trust placed with any software choice, whether that's an ATS, a CRM, or Marketing Automation – with the emphasis placed on the end user's privacy. Want to learn how we blew the competition out of the water with our security advancements? Click here.
Integrations with Other Software
Having a collaborative team, starts with collaborative software. When your ATS is integrated smoothly with other software programs, it adds to your team's overall collaboration and efficiency. We've been working with other key partners in the HR sphere for years. A few of our favorite applications that we're integrated with include, ADP Workforce, BambooHR, Bitium, Facebook, Google Analytics, Google Calendar, Halogen Software, HireSelect, LinkedIn, Twitter, and Workday.
Mobile Application and Quality
What device is everyone on when they step away from their computer? Most likely they've got their phone already in their hand before they've even stepped away. Having a mobile app, allows hiring managers to quickly provide feedback, sort through candidates, and communicate with recruiters. Regina Kim, a Corporate Recruiter with Paramount Equity raves, "Clean look and feel of the program. Also, love to pull up Jobvite on my phone; easy to use on a mobile!"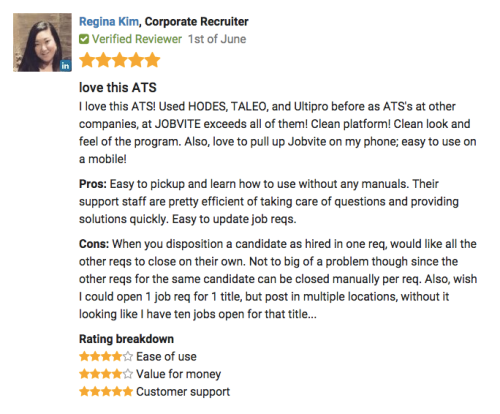 Looking for a new recruiting software? Check out this step-by-step guide that covers all the critical questions you need to ask: 7 Questions to Ask When You're Buying Recruiting Software.