Jobvite raised $15 million in Series C funding led by Trident Capital and joined by previous investors CMEA Capital and ATA Ventures. The funding will support rapid growth at Jobvite, where our customer base is now 600% the size it was two years ago. Social Recruiting applications by Jobvite are now used by over 500 companies, such as Whole Foods Market, Starbucks Coffee Company, Zappos.com, Inc., Yelp and Twitter.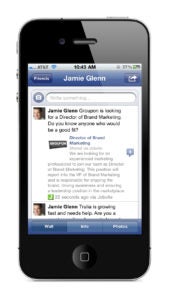 "The widespread adoption of social media is changing how people find jobs," said Dan Finnigan, President and Chief Executive Officer, Jobvite. "We are leading the way to provide the new technologies companies need to find and engage quality employees where they socialize. This investment will allow us to accelerate the reshaping of the multi-billion dollar online recruitment market."
Jobvite provides social recruiting technology that works on any social network at the scale and performance required by the fastest-growing companies in the world. All customer employees have accounts and apps to drive referrals through any social networks. The company's Software-as-a-Service products automate all of the steps in the hiring process and provide complete visibility via real time analytics. These analytics allow managers to see the status of searches, identify areas for improvement and optimize recruiting spend.
Jobvite pioneered the social recruiting category in 2009 by introducing the first recruiting platform integrated into LinkedIn, Facebook and Twitter, as well as a Facebook application for recruiting. Any job can be converted into a Jobvite, a job invitation that can be seamlessly matched, shared and tracked across multiple social networks. Since then we've added hundreds of networks, increased our matching technology sophistication based on millions of hiring transactions, and introduced intelligence that analyzes recruitment marketing results anywhere on the open, social web.
John Moragne, Senior Managing Director and Co-Founder, Trident Capital, will join our Board of Directors. "Jobvite is the clear leader in social recruiting," said Moragne. "Many key online categories are being transformed by social media and Jobvite is leading the disintermediation of the multi-billion dollar recruitment space having built a company with considerable revenue and traction during a challenging economic climate."