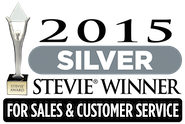 We couldn't be more thrilled to announce that for the second year in a row, Jobvite has won two Silver Stevie Awards: one for Front-Line Customer Service Team of the Year, and one for Customer Service Department of the Year. Although we were up against fierce competition in the technology and software categories, our outstanding Customer Success organization ultimately prevailed. To say we're humbled by this honor would be an understatement; we're kind of in awe. Not just because we placed so highly, but because our Customer Success team is really that good. These folks are the living, breathing embodiment of the word "dedication." They work tirelessly on behalf of our customers, bringing to life our number one motto here at Jobvite: Customers Matter Most.
The Stevies are world-recognized accolades for businesses that excel in providing superior service, and this marks our second year joining the ranks of winners like Salesforce, Box, Marriott, and Delta Airlines. More than 1,900 nominations from organizations of all sizes and in virtually every industry were evaluated in this year's competition, an increase of 27% over 2014. Visit the Stevie Awards website for  a full list of winners.
Congratulations to our entire Customer Success crew on these well-deserved wins!