7 things to know about Jessica Lee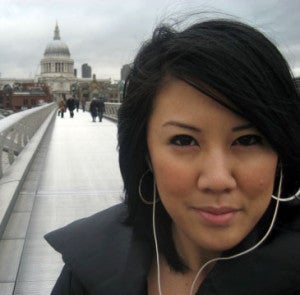 We're lucky to have Jessica Lee presenting a webcast on Wednesday, September 22nd at 10 am PT/ 1 pm ET. Please join us or just tune in later for the recorded webcast. Jessica Lee will break down the key metrics you need figure out what social recruiting strategies and tactics work. An HR professional, Jessica is a fresh, practical voice in the recruiting and social media industries who tells it like it is.
Here are seven things to know about Jessica Lee.
1. Acronyms are ridiculous.
Based in Washington, D.C., Jessica is a senior employment manager for APCO Worldwide, a global public affairs and communications consultancy. She spends half her time in recruiting and the rest in T&D, OD and ER. In the past, she's also managed FMLA, ADA and WC. Sounds ridiculous? She thinks so.
(For those of you who didn't catch all of that: Jessica has managed training and development, organizational development, employee relations, Family and Medical Leave Act, Americans with Disability Act and Worker's Compensation Law.)
2. Blogging is good. Blogging does good.
I don't know how she makes the time, but she does. Lee is the editor of Fistful of Talent, a blog on recruiting, HR, talent management and social recruiting. She's also a founding member and editor of the HRExaminer Editorial Advisory Board. With her humorous, hard-hitting style, Lee adds a much-needed kick to HR's reputation. Her goal? To make HR cooler.
3. She's No. 20 of 100 and No. 6 of 25.
The youngest on the list, Jessica comes in at No. 20 among the top 100 HR influencers. She's also No. 6 among the Top 25 HR Digital Influencers of 2009, according to the HRExaminer. While she doles out realistic and applicable advice based on her own experiences in HR, she's always got an eye always on the future of the recruiting landscape even.
4. She's serious about social.
Jessica shares her knowledge in the multiple blogs, with her 5,000 Twitter followers @jessica_lee and in person at venues like the #socialrecruiting summits in Minneapolis and New York. But she's not just talking about social recruiting – she's doing it every day at APCO.
5. She's got the numbers to back it up.
Since initiating a strategic effort in social channels, APCO Worldwide has realized big savings by reducing job board spend, moving from large job boards to niche sites and cutting back on third-party recruiters.
6. And there's value in the softer side of ROI.
What's the return-on-investment of the employer branding developed through social recruiting? This one saves her time: prospective candidates following along in social networks get the inside scoop on the company which cuts down on time spent discussing company culture during interviews and determining whether there's candidate-company culture fit. But for the real scoop…
7. She'll be live Wednesday, September 22, at 10 a.m. PT.
Tune in or watch later to see how you can tell whether your social recruiting efforts are making a difference. Jessica will provide some experience-based insights into what metrics you need to make your social recruiting a success.