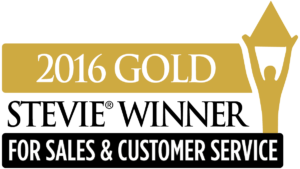 We usually don't like to toot our own horn, but we are thrilled and honored to be recognized for the third year in a row with a prestigious 2016 Stevie Award for Customer Service Department of the Year. While the competition was fierce, we are honored to be the only company to receive a Gold award in our category of computer software companies with 100+ employees.

The Stevie Award panel of judges commended Jobvite for striking just the right balance of technology and people, noting that we have "outstanding use of technology while delivering the human touch." Additionally, the judges were impressed with Jobvite's service innovation, and noted that "the innovative interactive help is outstanding, the support metrics show steady improvements in support delivery and positive customer feedback." The judges also recognized Jobvite for having a strong and balanced focus on both customer and employee satisfaction. We believe that happy employees make for happy customers and we are thrilled to see that the Stevie Awards agree!
This is a tremendous testament to the unwavering dedication of our Customer Success team and their laser focus on ensuring our customers are well supported and extremely satisfied with their Jobvite experience.
Congratulations to the Jobvite Customer Success team for this well-deserved recognition!