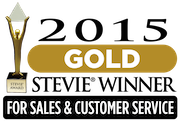 Yesterday we announced two important silver Stevie wins for the entire Jobvite Customer Success organization—but today, we're especially excited to brag about our own Jennifer Fray, who won an individual Gold Stevie award for Customer Service Manager of the Year.
For those of you who have had the pleasure of interacting or working with Jennifer, this win comes as no surprise. She is an instrumental member of our Customer Success organization, with over 16 years of experience in the industry. She understands what we do here at Jobvite, from every critical perspective. Jennifer has been a recruiter (both agency and corporate). She's worked in Sales, Implementation, Training, and Account Management. And she's been immersed in these areas with both SMB and Enterprise companies. We've been honored to have Jennifer apply this wealth of experience to serving Jobvite customers and furthering our commitment to excellence.
Winning an individual Gold Stevie award is no small accomplishment—but Jennifer doesn't do "small" anyway. She's a world traveler who enjoys adventure in places like French Polynesia and Thailand, and she loves the challenge of cooking complicated and exotic meals. This can-do spirit is what makes Jennifer such an asset to Jobvite and our customers, and we hope you'll join us in congratulating her on this major victory.
You can find more information on the prestigious Stevie awards, as well as a complete list of 2015 winners, on the Stevie Awards website.