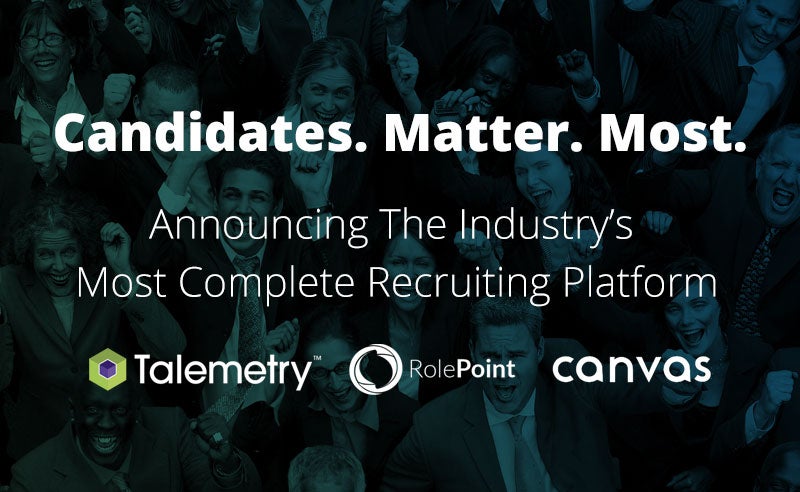 Today is an exciting day for Jobvite customers and the larger recruiting industry. Today, we announced a new majority investor and 3 significant acquisitions.
For more than 10 years now, we've seen talent acquisition's evolution from administrative recruiter to strategic business partner. Jobvite's core guiding belief, since our launch in 2006, has been that recruiting has become a strategic pillar for every successful company, and that we must help recruiters and talent acquisition professionals like you build a more strategic and forward-thinking recruiting process, one that recognizes that long before the candidate applies.
This announcement accelerates that mission – with Talemetry, RolePoint, and Canvas being brought together with Jobvite to provide customers a truly end-to-end recruiting platform and provide their candidates with an even richer hiring experience.
Deliver a Comprehensive Employee Referral Experience
Our social recruiting solutions drove a new wave of innovation in talent acquisition, with employee referrals being the foundation. We continue to build upon that foundation with RolePoint, which offers an internal mobility product to improve employee retention and continue delivering job referrals even after candidates become employees.
Drive Deeper Candidate Engagement with Text
Engaging with candidates in real-time, on their terms is critical to ensuring a positive candidate experience. After launching Jobvite Text, powered by Canvas last year, our customers were able to better engage recruiting applicants and candidates.  The incredible team at Canvas continues to innovate, leveraging machine-learning and chatbots to further aide recruiters in their top-of-funnel candidate screening.
Build a Robust Recruitment Marketing Engine
With the flood of information to candidates nowadays, it's difficult for recruiters to engage with potential hires. Jobvite recognized this problem, as the first ATS to launch a native sourcing solution, Jobvite Engage, in 2011.
With Jobvite Engage, our customers were able to not only identify, but also market to passive candidates proactively. Now, with the addition of Talemetry, the leader in recruitment marketing, recruiters can further increase talent flow, centralize talent pools and enhance the overall candidate experience.
A Look Ahead into 2019 and Beyond
The strength of the economy and the demands of TA departments to maintain competitive advantage was a huge driver behind this decision. Today, with more jobs in the US than there are people to fill them, and with unemployment at its lowest in 50 years, companies need more than an ATS to manage their talent acquisition. The technology requirements of the modern recruiter are rapidly increasing. We recognized the need to bring together multiple best-of-recruiting solutions, and incorporate them into the Jobvite platform, to keep pace with the needs of our customers. With an accelerated roadmap, and deeper resources across all of our great teams, I've never been more excited about Jobvite's ability to deliver customers the industry's best candidate experience.
We'll continue to innovate throughout 2019 with native integrations and a series of new enterprise features. I believe the market needs an innovator broadly focused on the entire recruiting process from the first look by a prospect to the first day for the new employee – but narrowly focused only on talent acquisition. We will continue to build the world's best recruiting platform, one that helps customers fast build the best teams with the best talent.