Think your poker face beats Lady Gaga's? Then place your bets and lend a helping hand at the Tweetup & Charity Poker Tournament before the #socialrecruiting summit this weekend in Seattle. Participants can rub elbows with principal consultants, corporate staffing leaders and recruiting technology executives before the summit sessions begin.
All proceeds benefit the ERE Foundation, which supports education and literacy programs for underprivileged children. The networking kicks off Sunday at 7 p.m. at Earl's Restaurant in Bellevue with the official shuffle/deal at 8 p.m. – and doesn't stop until there's a winner. If you're not a poker player, come for the tweetup or to distract the competitors with shenanigans from the sidelines.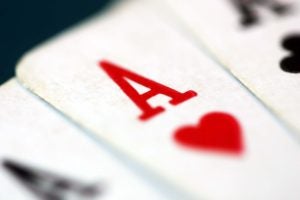 "The tournament has always been the 'buzz' at the big recruiting conferences," said Jeremy Langhans, tournament founder and senior recruiter with Talent Engagement at the Starbucks Coffee Company. "Bragging rights are highly sought after."
Past players to watch out for have included juggernaut Gerry Crispin of CareerXroads, just as much a force at the table as in the recruiting world, and industry executives like Neal Bruce, formerly of Monster.  (My money is on Jobvite's Jamie Glenn!)
But Langhans himself may prove to be a dark horse in the competition. "I've made almost every final table, and people are scared of my style," he admitted in an e-mailed statement.
Langhans launched the first charity poker tournament at the 2003 ERE Expo in San Diego. The most recent two tournaments raised a combined total of $15,000, which benefitted Hope for Haiti's education program. And that accounts for the enthusiasm for this event. "At the end of the night, it's all for the kids," said Langhans.
If you're interested in laying it out on the table, register for the tournament now.