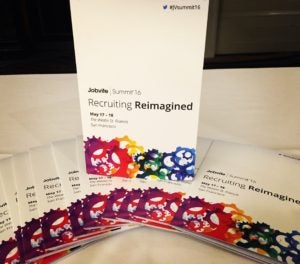 This year's Summit on May 3rd, 2012 at the Hotel Sofitel is slated to be the recruiting event of the year. We're bringing the best and brightest minds of the industry to one jam-packed event. Here are the top five reasons customers are excited to attend.
1) Be Inspired by Guy Kawasaki on Enchantment
Ever heard of Apple? Well this guy is one of only a handful of Apple Fellows, an elite group recognized for extraordinary technical or leadership excellence in the company that includes such innovators as Steve Wozniak and Alan Kay. He was the chief evangelist at Apple, and was partially responsible for marketing the Macintosh in 1984, which went on to become a cultural icon.
Now Guy spends his time as a renowned author and venture capitalist and being a partner in Garage Technology Ventures and co-founding Alltop. He'll be delivering the keynote speech on how to inspire people's actions and motivations.
2) Beginner or Advanced – Two Tracks to Extend Your Knowledge
Whether you're just beginning with Jobvite or are a seasoned pro, the 2012 Customer Summit offers two tracks to choose from. Beginner Track attendees will learn how to create custom recruiting reports, use social media to attract talent and referrals and maximize usage of hiring managers, as well as learn some of Jobvite's industry secrets.
Expert Trackers will discover how to build effective strategies, increase efficiency, exercise best practices in reporting and design a maximally effective career site. Regardless of your experience with Jobvite, Customer Summit 2012 has knowledge to offer you.
3) Power Center: Free, Private Consultations with Jobvite Experts
Attendees are entitled to a cost-free 30-minute consultation with a certified Jobvite product expert. Our expert will listen to your goals and will give you guidance on your company's specific needs, and help you to realize your full potential with Jobvite.
4) Network with an Array of HR Innovators
2011's Summit attracted customers from as far away as Australia and the United Kingdom. This year's summit promises to be even bigger. Take this opportunity to ingratiate yourself with pioneering minds from a broad spectrum of industries.
5) Cocktails on Us!
Nobody said these things couldn't be fun.
Don't miss out on this year's Summit, register today!