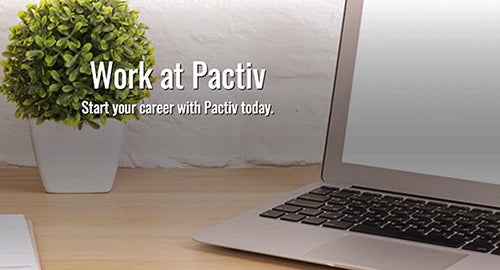 Pactiv has an impressive reach that includes managing teams and products in multiple locations to meet the needs of its customers. However, Pactiv found that in order to improve internal efficiency and workflow, they needed some help. Fortunately, that's where Jobvite Hire was able to step in to update Pactiv's applicant tracking system to shorten hiring time and improve the onboarding experience.
Problem 1: Outdated ATS
In today's world, it's important for companies to be proactive in hiring and reach out to candidates through different channels. However, the first problem with Pactiv's slow hiring system was due to an outdated and comparatively inefficient ATS tracking system. Pactiv's hiring managers felt that their hiring process was cumbersome and inefficient on both the hiring manager's side and the applicant's side. The solution required making some changes to update the system.
Solution: Creating an Updated ATS
Worldwide, more than 3 billion people use some form of social media. Prospective employers do, too. In 2018, 70% of hiring managers used social media during the hiring process. Pactiv chose Jobvite Hire to help it make some much-needed changes to their system. That included improving transparency. Now recruiters, hiring managers, and Pactiv's HR department can all access Jobvite's modern ATS. This keeps Pactiv connected and receiving routine feedback about the hiring process, while connecting with more prospective candidates. Additionally, everyone can use Jobvite's Publisher feature, which allows Pactiv's recruiters and its own employees to submit applications for job openings.
Problem 2: Subpar Recruiting Reporting
Numbers don't lie, but if you don't have the numbers to begin with, you have no metrics on which to base success. This was precisely the problem that Pactiv encountered in its recruiting software. Pactiv found that without a way to track and report milestones throughout the hiring process, including time-to-hire, there was limited opportunity for improvement.
Solution: Add Organization and Metrics-Based Reports
Naturally, Pactiv turned once again to Jobvite to get help for the situation. With Jobvite's involvement, Pactiv's hiring time was shortened by 25% to an average of 65-70 days. In some industries, the hiring process can exceed 120 days! This gives Pactiv a leg up in attracting top talent and keeping candidates' attention. Research shows that automating ATS solutions also provides financial benefits. When Pactiv organized its hiring process to improve efficiency, the company saved more than 10% of its initial recruiting costs. Pactiv also identified key areas where its ATS was lacking and needed improvement. Thanks to Jobvite, Pactiv's hiring process is much more efficient, and its candidates are better suited for their jobs. The collaboration between the two companies has helped Pactiv improve its social presence and its hiring system.