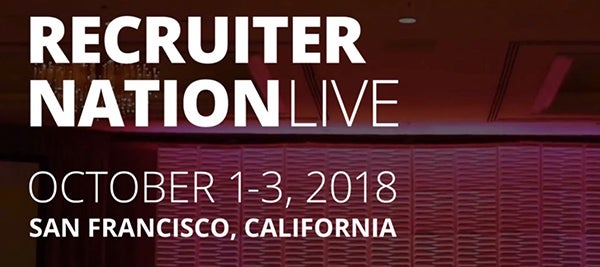 Who: You!
What: Recruiter Nation Live, presented by Jobvite

When: October 1-3, 2018

Where: San Francisco, California
And most importantly, the Why:
Invest in Yourself – Recruiter Nation Live is a great opportunity to get out of the office for your professional development. You know how busy being a recruiter or sourcer can be, so take the time to invest back in yourself. You'll learn from and network with peers and then bring a fresh perspective back to your organization.
Phenomenal Speakers – this event features the best and the brightest minds in the industry: analysts, thought leaders, and practitioners from some of the most innovative companies like LinkedIn, Salesforce, Trek Bikes, and more. We created an agenda of speakers with diverse experience, drawing on different industries and varying company sizes to bring you the latest insight on the hottest trends, as well as practical advice and strategies that fit your business.
Incredible Keynotes – our superstar combo of Jen Welter and Molly Bloom is exactly what you've been asking for. Jen Welter is the first female coach in the NFL. Molly Bloom is an entrepreneur and the best selling author of the 2014 memoir "Molly's Game: The True Story of the 26-Year-Old Woman Behind the Most Exclusive, High-Stakes Underground Poker Game in the World!", which  later was turned into a movie.
Exclusive and Limited Seats – with you in mind, we are limiting this event to 500 people. We wanted to maintain an intimate setting that would allow you to interact and chat with all our speakers and your peers.
SHRM and HRCI Credits – By coming to Recruiter Nation Live, you'll receive 9 SHRM and HRCI credits for your annual certifications!
The Price – The tickets are at a really great price, but it increases every month until the show. So the earlier you buy tickets, the less you pay. Think about it like this, if you learn just one new thing that you implement at your company, it'll be worth it! (Plus, you can expense the ticket!)
This Lovely City by the Bay – San Francisco – Recruiter Nation Live takes place in one of the most amazing cities in the US, and October is a fantastic time to visit when the normally fog blanketed city clears up to beautiful blue, sunny skies!
Get your tickets to Recruiter Nation Live 2018 here. Hope to see you there!
If you have any questions, feel free to reach out to me directly at .