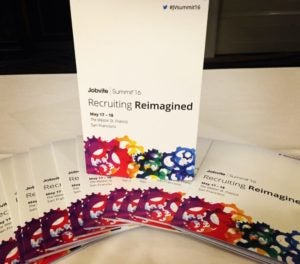 The best way to step up your game is to learn from the best. Luckily, we've done the hard work for you. Jobvite has assembled a rock star team of talent acquisition pros to present about their achievements during the Recruiting R(evolution). From the gaming industry to the non-profit sector, you will hear from recruiters of all different backgrounds.
The stress of the job will consume you if you don't take action and get inspired by some success stories. Our friends Christopher Esposito and Laura Holliday from Prezi are ready to share their tips and tricks for getting your strategy back on the road to efficiency. As a fast-growing tech company in San Francisco, they've been through their fair share of high-pressure hiring situations – they can most certainly relate to your struggles.
Recruiters in Casey Manning's field have other issues to worry about, such as finding the best game software engineers for KIXEYE before the competition gets to them. Since he works in such a specialized industry, the candidate pool is slim, and he constantly adjusts his recruitment strategy to lessen time-to-hire. Manning's extensive knowledge will provide you with insight into the world of rapid-fire recruitment.
If international talent is more your style, then Farah Abbas from Oxfam America will have a great deal of useful recruitment methods to share with you. Her company has seven locations worldwide, and she has been instrumental in helping her colleagues set up and deploy Jobvite. Take your hiring plan worldwide and learn to gather top talent from around the globe.
On top of all that, Tony Hsieh, the CEO of Zappos, has graciously accepted an invitation to speak on how to deliver happiness to your colleagues. Listen to the king of corporate culture discuss the value of establishing a healthy workplace atmosphere so you and your colleagues can thrive.
I've been working behind-the-scenes for this conference, and –believe me – it's an event you don't want to miss. I'll be there, so you can drop by and say "hi" to the face behind Jobvite's social media profiles. To stay up-to-date on the R(evolution), get social and follow Jobvite on Facebook, Twitter, Pinterest, Instagram, and Google+.
Can't wait to see you there!