Many companies have invested a lot of money in Human Resources Information Systems (HRIS) and Human Capital Management (HCM) solutions that are often bundled with recruiting software. At first glance, using their recruiting software seems like a no-brainer—it's seamlessly integrated with other important HR systems, the data is in one place, and it's already paid for.
Although the suite vendors like to think they have strong recruiting software solutions, don't let them fool you. Just as recruiting software is a bolt-on to their primary offering, it's also something that doesn't get the same level of attention, resources, and support that their primary offering receives. Because of that, the recruiting software that suites provide is uniformly outdated, clunky to use, puts up walls between you and candidates, and ultimately delivers a disappointing and frustrating experience for everyone—recruiters, hiring managers, hiring teams, and candidates. That causes lackluster internal adoption, higher applicant drop-off rates, and a longer time-to-hire metric.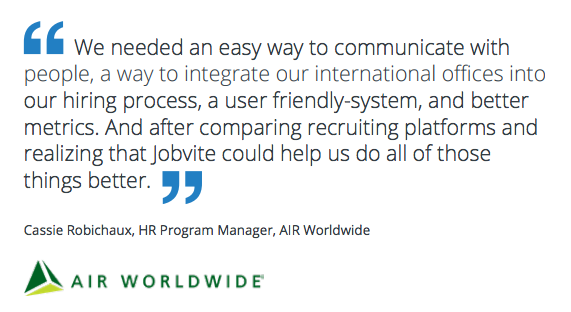 Recruiting is tough enough. You need the best, most innovative tools that are both easy-to-use and automate the tedious work, so that you can focus on what matters most—collaborating with hiring managers,  getting to know qualified candidates, and delivering engaging experiences throughout the entire recruiting process.
This eBook is a Must Read if You're at the Best-of-Breed / Suite Crossroads
Both IDC and Forrester agree that the best-of-breed recruiting software vendors win the recruiting solutions game, hands down. In this eBook, Jobvite customers from Verifone, Dollar Shave Club, Pactiv, GoodData, and more all share their thoughts on the topic. Additionally, you'll learn:
The top 10 tough questions that you need to ask on topics including candidate experience, security, integrations, analytics, and more

Exactly what industry analysts think on the topic

And get a handy one-pager that summarizes the pro's and con's of each recruiting solution