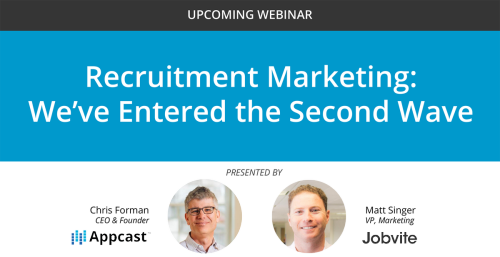 Appcast and Jobvite are teaming up for our next webinar!
The second age of recruitment marketing is here. After years testing the original nascent ideas that came to market, the industry is now shifting to the prevailing models that have proved success, leaving less productive ones behind.
Innovation in technology has allowed recruiters to catch on to the tactics of marketers, and in today's competitive hiring scene, recruitment marketing is the driving force behind measurable outcomes and valuable process changes. With its adoption, recruiting leaders are optimizing the funnel of talent that is brought into an organization and, on top of that, maximizing their ROI.
The webinar will focus on four main recruitment marketing essentials:
Programmatic Job Ads:

Just like Google's algorithms, you need to think about job postings and job boards as an iterative process that you and the machines are constantly optimizing.

Nurturing/Sourcing:

Prospects and candidates need and want

nurturing

; 60% of the decision making process happens before a prospect talks to sales and that's how the prospect prefers it.

Personalized Content:

No one wants to be one in a billion, each prospect and candidate wants to be marketed and recruited to in a personal way.

Branding:

Along with passive research, recruiters need to understand how their brand is known, when they have control of it (career sites and job descriptions), and when they don't (reviews, word of mouth, social).
Join in the recruitment marketing discussion with Chris Forman, CEO at Appcast, and Matt Singer, VP Marketing at Jobvite, on July 26th, 2:00PM ET/11:00AM PT.
About the Author
Rob Green is the VP of Marketing at Appcast, Inc, a programmatic, pay-per-applicant job advertising solution.