Recruiting is tough work. Managing candidates and trying to fill positions in a rapidly growing organization is complex. On top of that the candidate-employer relationship is radically different than it was even a few years ago. Social media and the Internet have given candidates access to more information about a company before they even think about applying.

In today's hyper-competitive job market, you need to identify qualified candidates and staff positions quickly. And you need the right technology platform to help you navigate the complexities of the hiring process efficiently.
Jobvite's recruiting platform was built from the ground up to make the job of recruiting easier, making hiring processes more efficient so that organizations can get the right candidates in the right positions quickly.
Built to serve the needs of today's recruiters, Jobvite Hire helps you manage your entire hiring process more intuitively and efficiently. This is not your average applicant tracking system. Today, social network recruiting is the new norm. And an intuitive interface is not a cool feature—it's expected by the social media generation. Only Jobvite Hire has kept pace with the job market's massive cultural changes, providing the social and candidate-centric features recruiters demand, including:
Video Interviewing – Proven to save recruiters up to 8 hours of valuable interviewing time, our on-demand video interviewing tool helps you find the right candidates faster and adds long-term value to your candidate database.
Home Page Dashboard – The entry point into Jobvite Hire enables you to stay on top of tasks with a customized single page view of your entire recruiting process, allowing you to take action right from the dashboard, and accelerate hiring.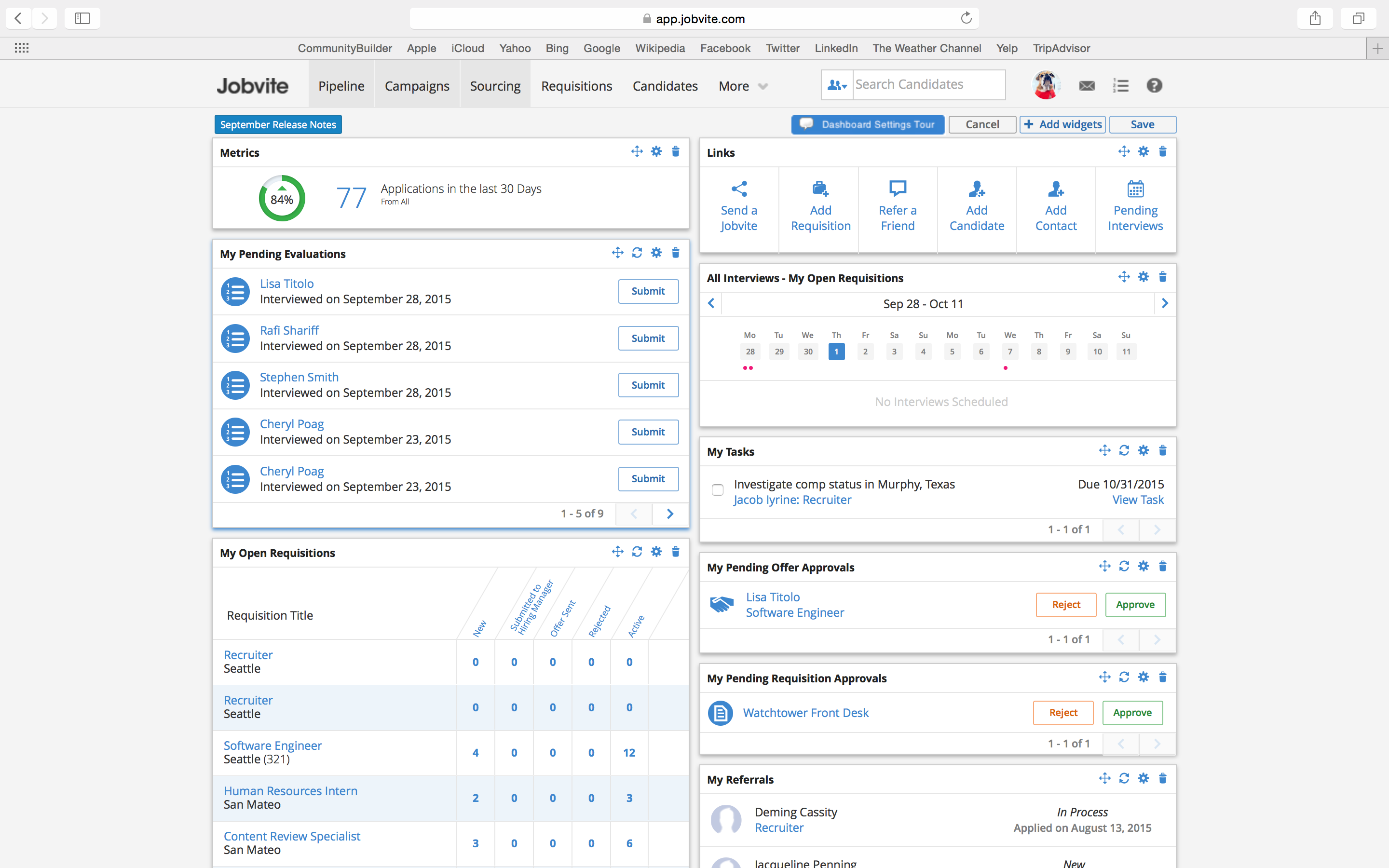 Smart Scheduler – Our time-saving Smart Scheduler intelligently zeroes in on the best time for all your interviewers using our unique algorithm and direct integration with Outlook and Google Calendar.
Reporting – Use pre-built templates or your own custom structure to create reports that pinpoint your compliance status, social recruiting success, employee referral progress, and much more.
But don't just take our word for it. The true test is what our customers think.
With a clean and consumer-like interface, Jobvite Hire is easy for anyone in the hiring process —recruiters, hiring managers, and job applicants alike–to use.
Allegheny Health Network, a healthcare system of seven hospitals as well as a large physician's network, brought in Jobvite to replace an outdated applicant tracking system, rolling out the Jobvite solution to more than 12,000 employees with ease. Thanks to its simple, productive platform, sophisticated reporting capabilities, and social recruiting component, Jobvite Hire has proven to be a trusted, essential facet of AHN's recruiting strategy.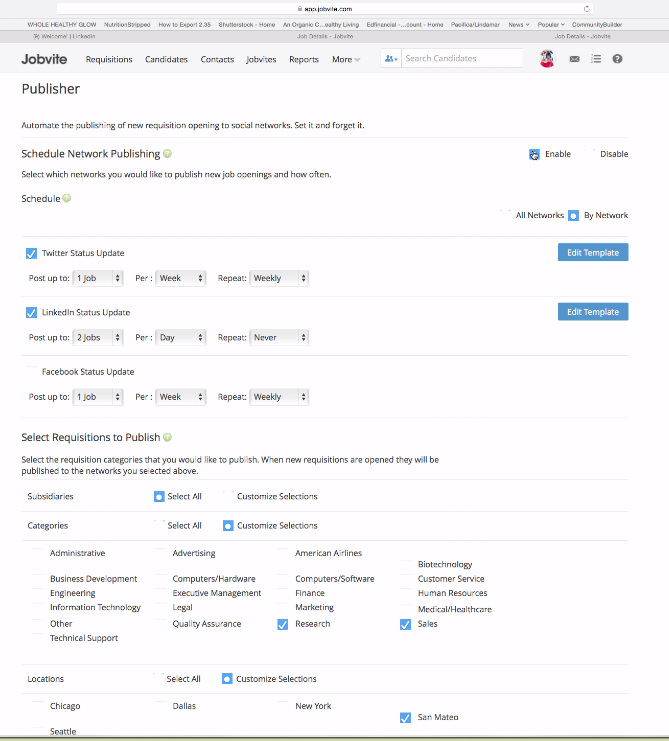 Jobvite also includes fully integrated social recruiting that lets you and your employees automatically share jobs to all your social networks vastly extending the reach of your recruiting efforts and allowing you to source and hire candidates with unprecedented speed.
The BJ's Restaurant family includes 150 restaurants and more than 10,000 employees. Jobvite has been instrumental in helping them attract 30% more candidates and tailor the applicant process to the unique needs of the hospitality industry. As Kelly Young, Talent Selection Manager at BJ's says, "With Jobvite, we've seen an uptick in candidates that have applied to BJ's, and it's been instrumental in pinpointing some great hires."
Organizations of all sizes wrestle with overly complex hiring processes that don't always prioritize the needs of the candidate. Jobvite Hire is designed to streamline hiring processes–getting the right information to the right people at the right time. For example, scheduling interviews with multiple interviewers can be a major headache for recruiting teams. Jobvite Hire comes with "smart scheduling" that syncs with interviewer calendars offering conflict-free interview times that work for everyone, simplifying what is often a frustrating and time-consuming exercise.
American Wedding Group was able to significantly streamline its hiring process with Jobvite Hire. After adding Jobvite to the company's hiring repertoire, the company's average rate of hire has gone from an unwieldy six to eight weeks to just 14 days, allowing them to vet and implement new candidates with newfound efficiency.
No matter your industry or company size, Jobvite Hire is built to make your recruiters' jobs easier, extend their reach, and make their processes more efficient, so that you can source and hire the best candidates faster. This is no ordinary applicant tracking system.