This week at the HR Technology Conference in Las Vegas, we launched the Jobvite app for Facebook. With this new app, people can find, refer and apply to jobs privately within Facebook, where they're most likely to connect and share information on a daily basis.
Companies, recruiters and employees can share and match jobs to friends with Jobvite's proprietary matching technology, providing better access to opportunities for job seekers and more quality hires for employers. People can also see their status in the hiring process at anytime, creating a positive, transparent relationship for companies and candidates.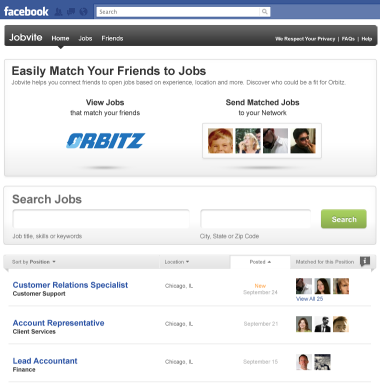 At Jobvite, we build recruiting technologies that integrate with all the major social networks. Customers, employees and candidates using Jobvite can choose which networks they'd like to use for finding work and finding employees. In February 2009, we introduced our first Facebook app, called Work With Us. Customers like Whole Foods, Orbitz, Chiquita and many others now use Work With Us to power job listings on their company fan pages.
The widespread use and high engagement on Facebook makes it a practical platform  for incorporating job search and referral into daily activity there. Now, over 16% of time spent online is on Facebook, compared with 11% for Google and 9% for Yahoo; and Facebook usage continues to grow at a fast clip.
"Our employees are active Facebook users and our most trusted source for finding high quality talent," said Rebecca Wilcox, Director of Talent Acquisition at Orbitz Worldwide and a Jobvite customer. "Jobvite's matching technology now makes it incredibly easy for employees to see matches for jobs and refer friends who can then apply – all completely within Facebook."
Now, for the first time, this new app puts the entire experience of discovering, referring and applying for jobs within Facebook from start to finish. Here's an overview of how it works:
Employees can match and refer friends to jobs.
The Jobvite app makes job referrals part of daily activity on Facebook.
When using Facebook, employees automatically see notifications about friends who match open jobs based on the professional and educational information in their profiles.
They can search their networks for matches to jobs at their companies, invite friends to apply, refer friends and automatically get credit for referrals.
Jobseekers can find referrals for jobs.
Job seekers can find friends at companies who are hiring and privately request referrals.
They can see job listings at friends' companies or search all job listings from Jobvite customers and find connections to those jobs.
While 85 percent of jobs are unadvertised, those on the Jobvite app come directly from corporate career sites where companies list all their open jobs.
Apply to jobs and follow-up from within Facebook.
Job seekers can apply to jobs completely from within Facebook with a resume or the education and work portions of a Facebook profile.
They can track the status of their applications to employers from within Facebook, eliminating a communication black hole.
They can join a company's talent network to be among the first to find out about new opportunities.
Job search with security, privacy and choice – and no spamming
All job application information is completely private; users choose what, if anything, to publish to their news feeds.
Job seekers have complete control over what, if any, information from a Facebook profile is shared with a potential employer; and they can always edit and preview what will be sent.
Employees using the Jobvite app do not give their employers access to their news feeds, private photos, check-ins or contacts.
No one using the Jobvite app will subject friends to automatic posts; all users can choose what job-related information to share with friends.
To learn more, stop by Jobvite or take a look at articles on Inside Facebook and All Facebook.