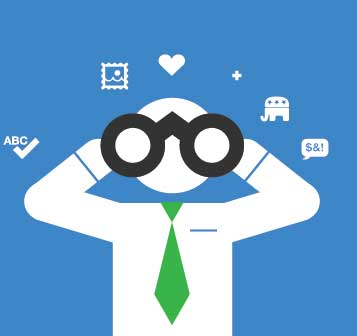 Today we announced a robust set of new social recruiting capabilities for the Jobvite recruiting platform.  We're excited to make these features available to customers of our Software-as-a-Service applications, Jobvite Hire and Jobvite Source.  We've designed these technologies to make social recruiting even easier, more trackable and more practical for employers.
A principle that continually informs our product design and development is the exponential power of engaging employees in social recruiting. Our products are architected to be used by all employees in a company, as well as recruiters and hiring managers; we build our recruiting software to be intuitive and frictionless for any hiring task, for anyone in the company.
In this release, we've focused on making it more efficient for any employee to target and broadcast job information in social networks. And on the backend, we've extended the distribution of Jobvites to over 300 networks, blogging platforms and sites to ensure that all the job publishing and referral activity is tracked and accurately attributed to a discrete lead source – automatically.
Here's what we've added to the Jobvite recruiting platform:
Target contacts in multiple networks from one place. Jobvite is the only application that now enables users to match jobs to all their contacts through API integrations with LinkedIn, Facebook and Twitter –simultaneously. Jobvite matching technology instantly recommends connections that fit the job and the user can send a Jobvite, a job invitation, with a customized message for each channel.
Automated publishing in social networks.  Any user (recruiter, hiring manager or employee) can schedule status updates in LinkedIn, Twitter and Facebook specifying the publication time, social network channel and job content. With these programming tools, the user can effortlessly provide the most relevant, fresh job content to their networks.
Broad, trackable distribution of job information. Customers can share job openings in almost 300 social networks, online communities, blogging platforms and other services. Unlike other recruiting solutions, Jobvite tracks the shared job information and social connections. That means recruiting managers automatically see metrics on social sharing of job information for every network, candidate sources are accurately attributed and companies have robust metrics on all social recruiting. In addition, Jobvite already automatically generates unique tracking URLs for every job invitation by every user across every channel, so customers have real-time access to the most in-depth source and referral tracking analytics in the industry.
Proactive referral recommendations. Jobvite now automatically generates recommendations to recruiters which employees may have candidate prospects within their networks.
Automated Jobvite Twitter channels. Customers can now send job listings to Jobvite Twitter channels so jobseekers can easily find listings as soon as they're created. Posting to Twitter aids the search engine optimization of a company's job listings as many major search engines use Twitter to supply a real-time feed of content. Jobvite provides this distribution seamlessly at no additional cost. In addition to a comprehensive feed – @jobvites – there are accounts for metro areas across the country such as San Francisco (@jbvit_sf), New York City (@jbvit_nyc), Boston (@jbvit_boston), Washington DC (@jbvit_washdc) and Austin (@jbvit_austin).
As you can see the Jobvite team has been busy, but you can expect even more new features and innovations to come. Check out the screenshots of our new features below.
Let us know what you think – and what ideas you'd like to see us tackle next.