An Applicant Tracking System is a software application specifically designed for recruiters, talent acquisition pros, and their hiring teams to create an efficient and streamlined recruiting process. All while giving their candidates and new hires an amazing experience from the the first time they are aware of you until they walk in the door. If your organization is on the market for your first ATS, or just staying current on the latest recruiting trends, then you need to read our new  "How to Choose an ATS" eBook that outlines the 10 key questions that you need to ask your recruiting software partner.
Below we discuss three key questions, download the eBook to get the rest to make sure that you're making the right ATS decision for your organization.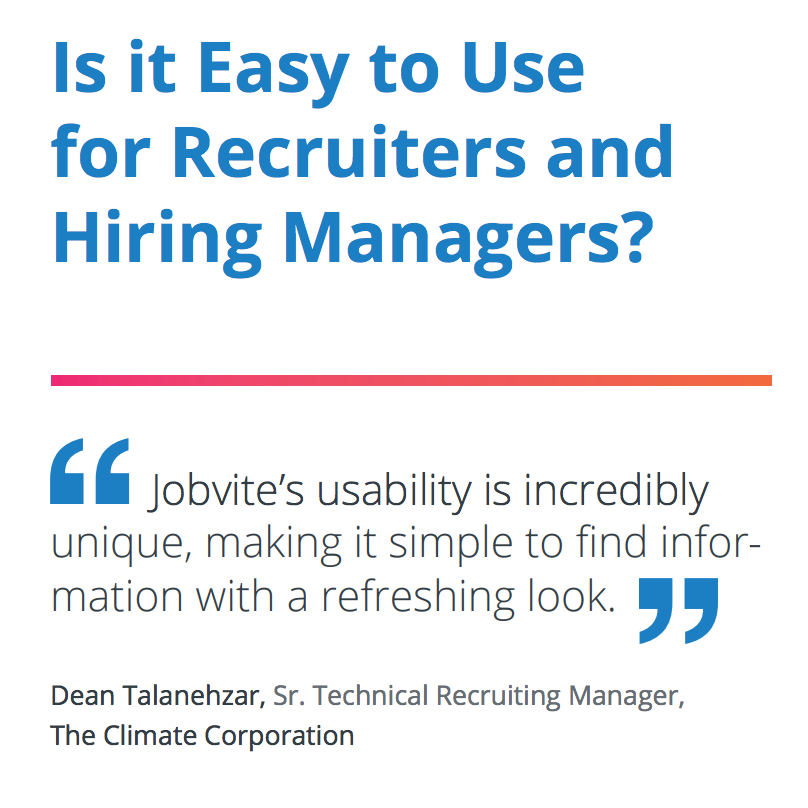 Is it easy to use for recruiters and hiring managers?
The best applicant tracking system empowers HR and recruiting teams. HR and recruiting teams need a tool that allows them to automate simple, yet mundane tasks such as scheduling and posting jobs, so they can spend more time on strategic initiatives and connecting with candidates. Recruiters also need an innovative dashboard to work from. Dashboards should be easy to use, with common-sense navigation. Full customization is even better, allowing everyone on the recruiting team – from Coordinator to VP – to use the tool and create a dashboard that works best for them and their responsibilities. Everyone knows that the highest quality hires come from referrals, and having an ATS that easily enables and streamlines the referral process is essential. An ATS should allow employees to easily refer their network and track those referrals all the way to their onboarding.
An ATS needs to be designed for Hiring Managers, too! Applicant Tracking Systems should quickly and easily put applicant and candidate information at the hiring manager's fingertips. An ATS needs to allow hiring managers to easily open requisitions, view resumes, send interview invitations, schedule interviews, provide feedback and see other evaluations, search and filter candidates, and engage with and review candidates. All of this should be available on the ATS, or a mobile app, without having to download any documents or make unnecessary clicks. Hiring Managers should be able to
Does it Have Robust Analytics and Reporting Tools?
Every successful hiring and recruiting strategy needs to be able to show tangible results. In addition to building relationships with candidates, recruiters have numbers to hit and need an ATS to back up their efforts. When researching applicant tracking systems, recruiters need reporting and analytics to be able to report back on their successes, benchmark them against the industry and their goals, and see the areas they can improve on. A few metrics that many Jobvite customers track and have seen significant improvements on include:
Time-To-Fill & Time-To-Hire

Employee Referral Tracking

Skills Matching to Connect Candidates with Open Job Postings

Identifying Bottlenecks in the Hiring Process

Social Media and Job Posting Monitoring to Determine Where to Best Focus Advertising Budget

And

more

!
Will your ATS vendor be there when you need them?
When buying software, recruiters aren't just buying the software, they're joining a family and creating a partnership with the vendor. The recruiting software vendor is there for recruiters and their team every step of the way: from implementation and getting up to speed on the ins and outs, to the little (and big!) areas of support and troubleshooting that arise. Software vendors need to be available for recruiting teams to listen to the different challenges they're currently facing and help create solutions. When looking around for an ATS, be sure to inquire and find out what kind of account management programs there are, what their technical and customer support hours are, are there easy to use help features built into the product, what kind of training is available? Check out the full eBook to read about the other ways an ATS vendor needs to be able to support their customers, including customizations (how cool!) and customer support awards (gold star!).
Want to find out what the other 7 questions are? Download the full eBook today.