eMarketer recently published results of the 2010 Digital Marketing Outlook survey in which marketers reported their priorities for investment in the coming year.
The top priority for 45.4% of senior marketers is social networks and applications, followed closely by digital infrastructure (44.5%). It makes sense that infrastructure investment follows close on the heels of social media marketing – that we need digital marketing infrastructure that fits the world of social media to realize a return on these activities.
At the other end of the spectrum, 34% said that email marketing would be a low priority. That's a clear preference for high rather than low engagement channels expressed by marketers.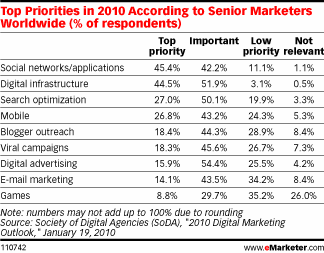 The research shows that investments in their traditional media has stagnated or decreased, digital has gone up – and the sharpest rise has been in "unpaid/earned/proprietary" media spending. eMarketer says, "climbing unpaid-media spending is likely an effect of the increased emphasis on social networks, where the most effective efforts are earned, not bought."
Marketing and staffing functions share a great deal of common ground, including many trends and strategies related to reaching and engaging prospects. Staffing departments as well are certainly prioritizing more "earned, not bought" initiatives, as companies switch spending from easy-to-buy job board postings to earned engagement with prospects through social recruiting programs.
The survey conducted by the Society of Digital Agencies polled hundreds of executives from major brands, agencies, vendors and service providers.