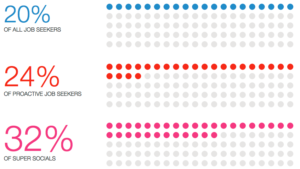 "You can't connect the dots looking forward; you can only connect them looking backwards." (Steve Jobs, Stanford University, June 2005)
I'll start with 3 stories and let you guys connect the dots.
Job 1: About 10 years ago I completed my mandatory army service in Israel and started looking for a job. Super old-school – I literally knocked on every door of the big telecommunication companies in Israel and told them that they have to hire me. Eventually, after about 5 weeks, I got hired as an associate on the marketing operations team. You're probably asking yourself, what the hell is the marketing operations team? Believe me, I asked myself the same question. On my first day I was given something that resembled a phonebook, and my manager told me: "Here's the instruction manual for our CRM system, enjoy!"
Job 2: Three years ago I went looking for a job and the hiring process was much different. I simply logged into my University's Facebook career site, clicked on a link to submit my resume and cover letter, and got hired about 1 week later by a San Francisco company in the recruiting industry. On day 1, my manager asked me, "Do you have any experience with CRMs?"
"Well, I read a very large book about them once."
"Perfect – we're putting you in the marketing operations role!" he replied. "We just purchased this CRM called Salesforce. No books, no instructions and it isn't even software – it's in the cloud!"
Job 3: About a year ago, I found my current job in Sales and Marketing operations for Jobvite. And this time, I wasn't even looking! I received a "Jobvite" from a friend via social media and started being courted by the recruiter. I later learned that I had a very typical profile for the most desirable candidate: the passive candidate.
Why am I telling you all of this? Because "the world has changed and recruiting has changed with it." New technologies and big data have changed the way we make decisions, do business, eat, sleep, market, and recruit.
History is repeating itself. Marketing redefined itself in the 2000s due to new technologies and big data. Access to consumer information changed the way marketing is done. The exact same transformation that happened in the marketing world is happening today in the recruiting world. New technologies, big data, and access to candidate information is changing the way recruiting is done and changing the way candidates find jobs. For the first time, talent acquisition is a top 3 priority for many CEOs. The new recruiter talks about ROI, automation, social media, and storing data in the cloud.
So if recruiting really is marketing, then why don't we learn from it? The marketing funnel mirrors the recruiting process. When the marketing world redefined itself and became more strategic, understanding and communicating the results across the organization also became critical. In my upcoming blog posts, I want to share some of the strategic initiatives, metrics, and best practices from my experience as the data guy in marketing. Recruiters can leverage these successes and learn from my mistakes.
I want to help connect the dots.