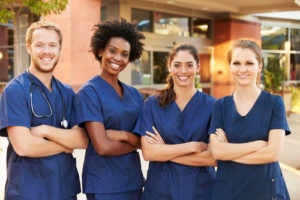 The reality is that the complexity and knowledge base necessary to be an effective patient care practitioner requires considerable on the job training, and health systems are thereby limited in the number of new graduate nurses they can hire at any one time. Nurse Residency programs have contributed to increased intake, but acceptable unit mix of experienced nurses to new graduate nurses still limits hiring.
Recruiting Nurses Today is Way Too Time Consuming
Recruitment for a residency program or for open requisitions for which new graduates can be hired will often result in hundreds of applications. Proper consideration of all candidates can be time consuming and strain the resources of both recruiting and nursing. Let's examine a hypothetical example of a hospital staffing a residency program with 20 new hires:
Conservatively, 200 applications are received, and recruiting immediately rejects 50 based on schools, GPA's, clinical rotations, or other criteria.

Further vetting continues with recruiting conducting thirty minute phone screens on the other 150 applicants (4,500 minutes/75 hours) resulting in an additional 50 rejections, leaving 100 possible candidates for 20 openings.

Two nurses designated by the residency program then conduct personal interviews of the remaining 100 candidates to get down to 20 finalists. That represents 45 minutes of nursing time per nurse for each candidate, or 9000 minutes/150 hours.
This regular practice repeated across healthcare systems nationwide, has consumed 225 hours of time before final interviews, offers or hires are made.
Cut the Process Down to Size with Video Interviewing
What if recruiting could send each candidate an email from within their candidate record in the ATS system, with a hyperlink, inviting them to conduct a video interview. When they open the hyperlink, they get a welcoming page with instructions, and are then presented with five (there can be more or less) questions that nursing would ask in a personal interview. They then answer each question individually on their webcam and when completed, the video clips are automatically returned to the candidate record. A personal viewing of the candidate on video is now available for viewing by anyone so designated within the organization. An average clip is approximately 2 minutes in length, so for 5 questions only 10 minutes is expended, and they can be viewed at one's leisure day or night.
Additionally, assessments of the candidate response to each question can be recorded by any viewer. What had previously taken 225 hours of productive time to narrow the field down to 20 candidates can now be done in 33 hours. Additionally, the information becomes part of the candidate record and always available for future viewing. The Jobvite Platform, with video interviewing, allows you to apply the above example to any positions you desire.
It takes pre-qualification to a whole new level, extends your reach, saves time, increases efficiency, and could save wasted travel costs.
About the Author
Irv Naar is a Principal Consultant at FIND Consulting and the former VP of Talent Acquisition at UMass Memorial Health Care.