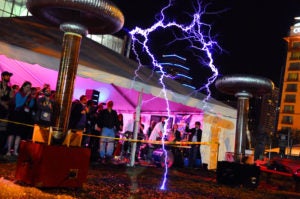 Today, I will speak at SXSW on the future of work. As I put together this presentation, I thought, this information is so important to business worldwide. Without a workforce, there is no company.
Employment is something on which we all rely. It's a mutually beneficial relationship between employer and employee.
Over the years, the dynamics of this relationship has evolved. The onset of the Internet, social media and technology, jobs become few and far between for some and plentiful for others.
Regardless of the field of work, everyone has a wandering eye. In Jobvite's annual Social Recruiting Survey, we found that 61% of employees are open to or actively looking for a new job and more than 30% of employers expect new hires to stay two years or less.
Think about the repercussions of this data for a minute. If every employee transitioned in and out of your company every two years, what would happen?
Fast Company recently deemed these workers as "Generation Flux." As recruiters and HR professionals, it's our job to steer a prospect away from "job dating" and enter a monogamous relationship with his or her company. We are matchmakers looking for a perfect match, making a long-term commitment to recruiting.
This means that companies also need to rise above the competition in their respective industries as well as in the job market. An employment brand becomes more and more important; and driving these initiatives requires more strategic thinking.
So where do we begin?
The answer should be obvious: social recruiting.
As dating evolved from meeting people in the "real" world to meeting people online, so should how we recruit candidates. Jobvite customers, such as Match.com and eHarmony, have demonstrated success in helping people find their perfect match. Recruiters can do the same with social networks.
By engaging with employees, candidates and prospects through social media, companies will have a competitive edge in attracting quality talent that prefers to be wooed. Need more proof? Over 22 million Americans have used social networks to find their most recent job (Social Job Seeker Survey 2011).
2012 is here, are you ready prepared to ride the wave in the future of work?
__________________________________________________________________
Update:
View Dan's SXSW Presentation Slides.