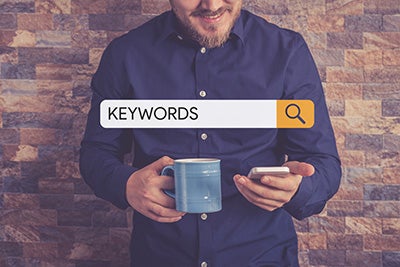 If a lot of the applications that your organization receives are not quite right, perhaps your career site and/or job postings have a keyword problem. According to Huffington Post blogger Susan P. Joyce , it is a good idea to check which keywords are trending for that type of a job. Jargon and relevant terminology change over time. As Joyce explains, "Find a way to add the top two versions of the term." Perhaps the latest generation of college grads calls an old concept by a new name. If your job posting doesn't include the relevant keywords, then you could be missing out on some of the top talent.
Make SEO adjustments to your career page
It is possible that your recruiting software is too restrictive when it comes to the percentage of keywords found in a candidate's application. If your application process requires that a certain keyword, such as "PMP certification," be listed four times, you might be missing out on the applicants who have that certification but listed it just one time. Sharlyn Lauby, a job coach, suggests that applicants include extra instances of certain keywords in a white font on their resume as a way of bypassing tracking systems that require a high keyword density. However, this would require that the applicant know which keywords you are using and what density is required. It would be easier on your end to adjust the software to look for a lower keyword density in the content.
Analyze job applicant activity
Leverage the analytics and reporting available to you in your ATS to understand the candidate experience. Use your tracking software to analyze each applicant's activity–for example, you might want to use the software to track the frequency of how often the applicant visits your website or social media pages. Keep track of how many jobs the applicant applies for within your organization. Count how many times he or she reads your corporate blog, clicks on your recruiting ads, leaves comments or "likes" a post. Consider using the software to see if the applicant has a past relationship with your company. For example, if you are an internet service provider, find out if the applicant has ever been your customer. A past relationship signifies familiarity and loyalty, which could be a boon for your corporate culture and can help you determine if the candidate is a fit for your organization.