Whether you are a part of a huge team or an HR department of one, industry conferences offer value in countless ways — from discovering a problem-solving vendor to networking with expert peers.
Half of 2017 is gone, but it is definitely not too late to get to a conference. (It's not even too late to get early bird pricing on some.) Here is a list of what's still to come in 2017, so you can start making plans today.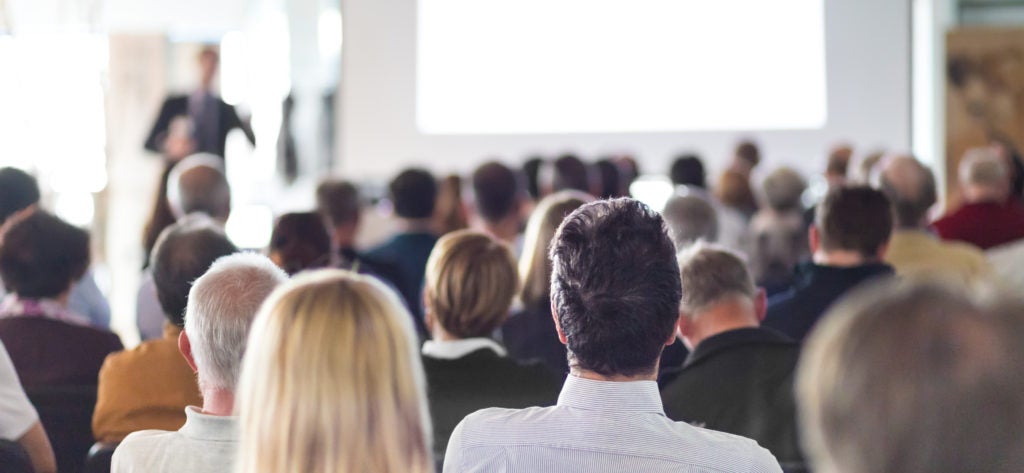 San Francisco, CA – September 7, 2017
Taylor Dumouchel of Peak Sales Recruiting makes conference attendance a priority for himself as his team, due to his belief that continuous learning is critical to success. He is looking forward to HIREconf in 2017:
[HIREconf] provides attendees with takeaways that can be implemented immediately and will help guide future strategies. With a focus on understanding the evolution of talent acquisition, this event is the go-to place to learn more about recruiting trends such as machine learning and artificial intelligence. — Taylor Dumouchel
This easy-to-attend, one-day conference offers numerous speakers from Social Talent, Facebook, HiringSolved, Apple, and HR Open Source and Amplify Talent.
Seattle, WA  – September 16 through 19, 2017
The number of people employed in the healthcare industry continues to rise. The American Society for Healthcare Human Resources Administration holds an annual conference focused on education, networking, and professional development for healthcare HR professionals.
Denver, CO – September 20-22
The National Association of Personnel Services hosts and annual conference that is hailed as an energetic and inspiring event, as well as a premier networking opportunity. Tracks and breakout groups are divided into four categories: direct hire, temporary staffing, leadership, and best practices. This year's breakout sessions include, "10 Proven Techniques to Make More Placements," "10x Your Desk: More Results, Less Effort," and more.
Austin, TX – September 25-27
ERE Media hosts two HR/recruitment conferences, twice each year. The fall SourceCon is the third event for 2017, and designed specifically for sourcers and recruiters. It's also SourceCon's 10th anniversary, so they've arranged 40 speakers, five tracks, two pre-conference workshops, and three days of "awesomeness"—including hands-on innovation labs, a hack-a-thon, and more.
Washington, D.C. – September 27 through 29, 2017
Is all, or part, of your workforce remote? This conference, held by FlexJobs and Remote.co, covers the current trends in telecommuting, remote workers, and distributed workforces (TRaD: telecommuting, remote, and distributed).
As these and other new ways of working increase in popularity, it is a worthwhile investment of recruiters and HR professional to learn about the best ways to scale your programs and keep your remote workers, engaged, productive, and happy.
Fort Worth, TX – October 1-4
HRSouthwest is a huge annual event for HR professionals. Keynote speakers this year include Laura W. Bush and John O'Leary. Educational sessions are broken down into 10 categories, including Employment Law & Labor Relations, Global HR & Cultural Effectiveness, and more. The website even has a convenient, "Convince Your Boss" Word doc for you to download!
Nashville, TN – October 3 through 5, 2017
Details for this year's event are just rolling out, but you can expect visionary insights and plenty of cutting-edge recruiting and networking ideas from the experts at LinkedIn. The featured keynote speaker for this year is Brené Brown, of Brave Leaders Inc., and breakout sessions include, "Talk Nerdy to Me: Today's Must-Have Recruitment Marketing Analytics," "How Gen Z Will Change the Workforce," and more.
Las Vegas, NV – October 10 through 13, 2017
Trent Silver, of Nerdster, always encourages his clients to attend the HR Technology Conference and Exposition.
This conference has been around for 20 years and is continuing to grow due to its ability to adapt to the current business environment. With hundreds of thousands of millennials entering the workforce each year, this conference has put an emphasis on HR technology, startup CEOs, and young people looking to work. — Trent Silver
Organizers of this event embrace traditional HR processes while constantly evolving. The conference now covers topics like gamification, SaaS, and startup CEOs.
Minneapolis, MN – October 16-18
ERE Media's other conference—the fourth and final one for 2017—is the ERE Recruiting Conference for TA and in-house recruiters. You'll hear from Ross Sparkman, Head of Strategic Workforce Planning for Facebook, and Becky McCullough, Director of Recruiting for Hubspot, among others. Registration is open now.
Las Vegas, NV – November 15 through 17, 2017
For nearly 25 years, the Advanced Employment Issues Symposium has been one of the most essential employment-law conferences. HR professionals, executives, and in-house counsel can all benefit from attending this conference and learning more about legislative changes, compliance issues, and limiting your company's liability.
11.
Recruiting Trends & Talent Tech Conference
Palm Beach, FL – November 28-30
Two annual industry events are becoming one for the first time this fall. The Recruiting Trends Conference and the Human Resource Executive Talent Acquisition Tech Conference are joining forces to bring you Recruiting Trends & Talent Tech, promising to deliver "the art and science of talent acquisition." Details are forthcoming, but registration is open.
Make Time for an HR Conference This Year
HR managers and recruitment professionals know that this industry never stands still. New technology is always streamlining and advancing processes, and best practices are always evolving.
If you've never been to an HR or recruitment conference, make time this year. Find one close to you this autumn, and make it a priority. Your career will benefit from the professional experience, and your employer will benefit from your advanced insights.
Do you have a favorite conference that didn't make the list? One you're looking forward to in the spring? Leave a comment and let us know which one you prefer!