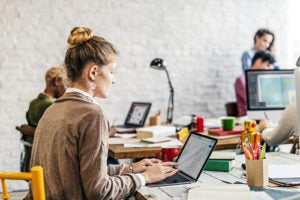 In the HR industry, we've all heard of Bill Kutik. He's considered the father of the HR Tech conference. He's an industry analyst and columnist, with over 8,000 Twitter followers. He's also the host of a bi-weekly talk show that features unscripted and frank conversations with some of today's most influential HR thought leaders—and we're extremely proud that he's featuring Jobvite's own Dan Finnigan tomorrow.
Tune in at 12 p.m. EST (9 a.m. PST) on Wednesday, February 12, at billkutik.appirio.com to hear Dan discuss the results of our newly released 2014 Jobvite Job Seeker Nation Study.
If you haven't already taken a look at this year's survey results, you'll want to. Bill and Dan will be taking an insightful look beyond the numbers and closer to the heart of what we've uncovered, keying in on questions like:
Why are so many currently employed professionals still curious about new work opportunities?
What do the trends in social media site popularity really mean—for job seekers and recruiters?
Why do mobile platforms and career sites matter in a competitive job market?
How does the emergence of a new "millennial" workforce change recruiting?
What does the real "revolution" in recruiting look like, based on this new data?
And if you listen to the radio show after it airs live, be sure to post your questions or comments below. The 2014 Jobvite Job Seeker Nation Study is a critical window into today's workforce mentality, and it's worthy of ongoing conversation.