Recruiting is a team sport. Recruiters, hiring managers, employees, and job seekers all play an important role throughout the process. When the process slows down, it's usually because the hiring manager is too busy to approve a requisition or provide interview feedback. They are always on the go–usually with a phone in hand–so we knew that we needed to create a mobile app that would help both hiring managers and recruiters stay one step ahead and keep everything moving along. While the Jobvite platform is already accessible on mobile, what keeps our company growing is our continual desire to innovate and make make our customers' jobs as easy as possible. So, deciding whether to develop a mobile app that help accelerate recruiting was an easy one.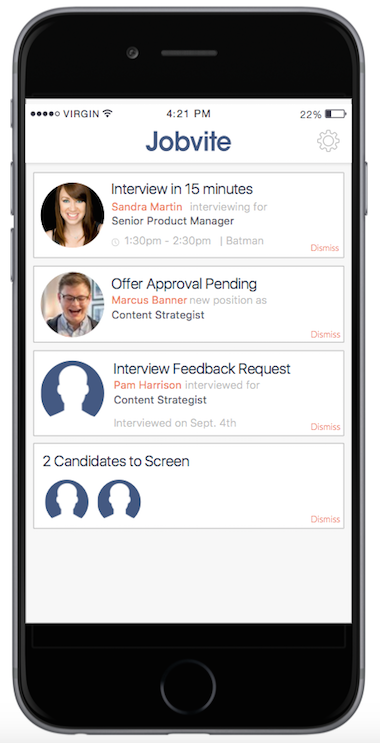 The Jobvite native mobile app, that will be available in Q1 2016, has a host of new features designed to facilitate recruiting regardless of location or role. In fact, there will be a tailored experience created specifically for hiring managers and recruiters. Hiring managers who have a lot on their plate, but still need to give the final sign-off, are able to action on a candidate on the go and receive timely notifications to remind them when they need to jump into the workflow. Recruiters can then smoothly navigate in-person interviews by scheduling times, evaluating candidates immediately after an interview, and reaching out to them directly–all through the app.
And, let's not forget about employee referrals. After all, 78 percent of recruiters agree that referrals provide higher quality candidates than any other source. Instead of keeping track of lengthy email chains, Jobvite's mobile app requires just a swipe of the finger on a candidate's profile to recommend them.
And, if you're at HR Tech, stop by booth #2034 and we'll be happy to show you a demo of the mobile app. We think you'll be as excited as we are about how the app will help you win the talent game.