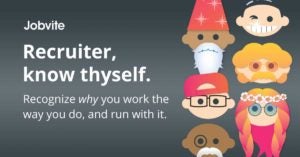 If you're a dedicated recruiter in 2017, you're probably working round the clock to find and hire the best talent. And no doubt you've got yourself into a groove, too. You know what works for you in terms of technique and approach—and you'll stick with it as long you continue to get good results.
But do you know why you like to work the way you do? What is it about your unique personality that affects the way you do your job?
Jobvite has some ideas. In our latest eBook, "What Kind of Recruiter Are You?", we outline some of the recruiter personalities we've seen over the years—from the tech-obsessed types to the serious networkers to the folks who love teamwork.
We also highlight:
The Millennial Whisperers—those recruiters with an uncanny ability to find and connect with today's hottest candidate demographic;

The Sourcer-ers—those who run a precise game and are smitten with data analytics;

The Maestros—those masters of organization that always find ways to make hiring processes run faster, smoother, and better

And more!
So why is your recruiter personality worth noting?
To begin with, identifying your specific work traits helps you recognize your strengths and understand why they work for you… and maybe not so well for others. This gives you a leg up on competitors who might not trust their instincts to stick with what works—even when it's not the norm.
Also, understanding your strong points helps you see how to make the most of them, so you can up your game even further. For example, if you're the kind of guy who prefers traditional face-to-face interaction, then you can embrace that trait and even expand upon it—maybe by making a foray into video interviewing, where you still get that personal view of applicants that email just can't provide. Or if you know you're a pro at finding and connecting with candidates through social media, then you'll want to be sure you're leveraging the latest technology to post faster and search smarter.
Curious where you fit on the recruiter personality spectrum? Find out today!