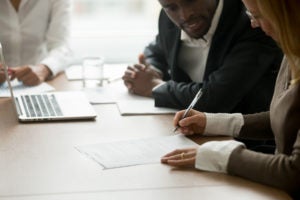 Between significant regulation and compliance, talent shortages, and an ever-changing economy the financial services and insurance industries are facing a few recruiting challenges in 2020. And depending on an organization's approach to candidate experience, it can see unprecedented gains or discouraging losses in quality talent.  Did you know that, after a poor candidate experience, "41% of candidates will take their allegiance, product purchases, and brand relationships elsewhere because of it?"  But it's not all gloom and doom! The candidate experience offered by an organization provides a unique opportunity to address these industry-wide challenges and really separate the market leaders from the followers.  Here are two specific ways that you can improve your candidate experience from the recruitment marketing lens. 
Build Consumer Quality Content 
Every candidate who views a job ad, responds to an email, clicks through a social job posting, speaks with a recruiter, converses with a chatbot on a career site, or otherwise hears about an open opportunity ends up on an organization's corporate career site.  It is important that the career site be able to quickly cater to your most sought–after talent segments. This compelling experience should include relevant job and content recommendations and geo-personalization to make it easy for the right talent to find the right jobs.  Investing in providing better content and a consumer-candidate experience represents significant potential for increasing quality candidate flow. Increasing the visitor–to–applicant conversion rate by just one point from 3% to 4% results in one-third more applicants (trust us, the math works).  Additionally, large financial institutions have been able to document seven-figure impacts on bottom-line revenue by providing future and current customers with a more satisfying candidate experience. 
Offer an Uncomplicated Application Process 
Furthermore, in today's world of low unemployment and hard–to–hire specialized talent, dated and clumsy career sites and complicated applications destroy employer brands. Financial service companies looking for the best and brightest can and should have a slick website, compelling videos, and killer benefits. But if the first and only way for the candidate to engage with the company is an employment application that feels like a late–90's loan application, all brand goodwill disappears.  Your application process has to be compliant, but that doesn't mean that it needs to put every applicant through an excruciating and painful process! Your application process should be an easy-to-use, consumer quality candidate conversion process.  Some simple fixes include:  1) Removing registration requirements   2) Catering to any person on any device (mobile, tablet, desktop)   3) Automatically capture remarketing opt-in without the need to ask for candidate information twice   Tips like these and more can be found in our Talemetry's Candidate Experience Handbook. 
The Numbers Speak for Themselves 
Jobvite clients, including some of the world's largest financial service organizations, have implemented these smart fixes and have seen a documented increase of quality applicants.   One Jobvite client, a global financial institution, was able to increase applicant conversion rates by 87% by making the application process easier.  Another client saw a 385% increase in applications, higher candidate quality, and cost savings.   
Attract the Best Financial and Insurance Services Talent Today 
To learn more about how Jobvite is helping other financial and insurance companies to source, engage, and convert highly-specialized talent, check out some of our customer success stories like AIR Worldwide.    And if you're looking for ways to improve your candidate experience, we'd love to chat about what would work best for your organization.